Rio 2016: The priceless faces lighting up the Olympics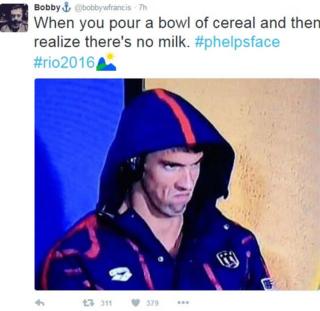 Olympians' faces can tell the funniest stories. The internet is loving two in particular.
Michael Phelps' face is a study in pure concentration. Ahead of his 200m butterfly semi-final, he is clearly in the zone.
It didn't take the internet long to put his expression to good use.
Naturally, a Twitter parody account has already been created.
The record-breaking American swimmer eventually finished second in the race, beating the man he's seen staring at, Chad le Clos, into third.
The other Olympian attracting attention is Chinese swimmer Fu Yuanhui. Her utter disbelief at finding out her time of 58.95 seconds in the women's 100m backstroke semi-finals during an interview with CCTV is already the stuff of legend.
"Of course, I haven't learned to use facial expressions," the bronze medallist said. "Sometimes I exaggerate facial expressions, maybe it's a way to relieve stress."
In a few hours after the race Fu gained about 600,000 new followers for her Weibo page, taking the total to more than 3.2 million. Fu's most recent post in which she poses hand on hip by the pool hand has received more than one million likes. Along with the cute emojis, the light-hearted caption reads: "I might look like a 'sexy bitch' but inside I'm a natural charming lady."
Fu has even inspired the artist @丁一晨DYC to create a set of cartoon images of her expressions. This one is captioned which was the swimmer's immediate reaction to hearing her time: "I've been using prehistoric powers!"
Blog by Harry Low, Tallulah Berry and Ruhua Xianyu
Next story: The puppy rescuers of Alexandria
You can follow BBC Trending on Twitter @BBCtrending, and find us on Facebook. All our stories are at bbc.com/trending.