'Black lives should matter in South Sudan too'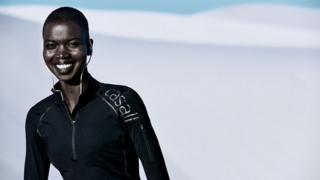 Nykhor Paul is a US-based supermodel from South Sudan. She enjoys a life of castings, photoshoots and travel - a world apart from the conflict which has scarred her homeland. Tens of thousands of people have been killed and more than 1.6 million have been internally displaced since 2013. An uneasy truce is currently in place after hundreds died in a fresh outbreak of violence earlier this month. Paul speaks exclusively to BBC Trending about using social media to campaign for a change and "build bridges" between her two worlds.
I live in New York. I'm full time model with Wilhelmina Models, which is one of the top agencies in the world - they represent Nick Jonas and Demi Lovato. My life involves castings, photoshoots and travel. My career has gone well; I used to be the face of Louis Vuitton and I've walked on global fashion shows for labels like Vivienne Westwood. My life now is a whole world away from where I was born and where I came from.
I came to the States in 1998 - to Nebraska. It wasn't easy by any means, I was put into foster care and had to get my head around learning English. When I was 14 I got 'discovered' by a modelling agency.
I spend every day trying to build a bridge between my two worlds.
I've been regularly posting about the recent unrest in South Sudan on my social media platforms, especially Instagram. My posts have got thousands of likes, but there's still so much more to do in terms of awareness - which is my primary aim.
Although more than 300 people have been killed this month in South Sudan, and the clear tension between President Salva Kiir and former vice-President Riek Machar has threatened to revive the civil war that my family fled - the one that killed tens of thousands of people - South Sudan stories do not trend. Hashtags like #PrayForSouthSudan don't tend to go viral.
I was born in 1989 in Akobo, in the now South Sudan (South Sudan became an independent country in 2011). My family and I left in 1996 when the second Sudanese civil war (which lasted from 1983 to 2005) came near where I lived. The food situation was dire and there was so much chaos. So we left and moved around the border of Ethiopia, trying to find safety and eventually settling in a refugee camp.
My parents wanted a better life for me so they sent me with my uncle to America. They remain in the refugee camp to this day. I didn't see them again until I went back to visit them in 2014, until I got my American citizenship so that I could travel more easily.
When the modelling took off I got great opportunities to travel, hang out with colleagues, be part of an aspirational life and really enjoy the privilege of it. I've been quite outspoken on social media and I've called out the fashion industry on issues of race and opportunity for black women in the industry. However, recently I've tried to understand the context of the racism that results in the lack of opportunities for women of colour in fashion.
Maybe it's the weight of being separated from my family for 18 years and living this American experience without their support and understanding of my reality in my new country. I've been thinking a lot of about how to utilise the privilege I've been lucky enough to have in order to raise awareness of what is happening in South Sudan today.
Some people reduce the historic conflict in South Sudan as being ethnic or tribal. President Salva Kiir is an ethnic Dinka, while former vice-President Machar is an ethnic Nuer; this is the experience of all of us South Sudanese people but our tribal differences haven't prevented us from living among each other as one.
There are more than 60 tribes in South Sudan and in my experience we are not as tribally divided as the rhetoric of people who aren't from my country would have you believe but it's easier to paint that picture especially towards people in sufferings. And it's not all conflict and war.
My childhood was magical and Akobo was beautiful place to grow up. I remember at 5am every morning my grandfather would take me to the Nile with his fishing net. And arriving there we would see all of God's creatures coming to Nile to kneel down and drink water. I's look and say "Oh grandpa, look there's a giraffe! And there's hippo! And there's an alligator!" And he would look at me and say, "They are just like us, they've come here to get their water in peace and go back to their life." I think back to those words often.
When I read about the recent outbreak I thought about my experience and concluded that this conflict is political fuel by tribal minded individuals who are hungry for political positions. The recent outbreak is something personal between powerful men. When I was growing up, Riek Machar and Taban Deng Gai (who has taken over from Machar as vice-President) both used to visit my father's church. I remember them coming to sing hopeful songs about the country. And now they are part of the cause of chaos.
I now live in America so I've of course been following the recent racial tension here closely. That's why, when I decided to create social media awareness for South Sudan I include the 'Black Lives Matter' tag on my posts. I got t-shirts printed that said 'South Sudan' in the front to educate and create dialogue so we can learn each other world. In the next coming months I am adding 'Black Lives Matter' at the back because my two worlds are both suffering simultaneously, I want people to link the two and make that bridge.
Right now South Sudan is seen as so far away and distant by many who live in America. But what's happening in South Sudan, with unarmed black people being killed by authority figures, is actually very much the same issue as what we've seen happen in America. And the way to help is to create a healthy peaceful dialogue between each other through education and care for our collective wellbeing.
It is the 21st century. It's 2016. To reduce problems in Africa as being tribal is short-sighted but it's up to the African Diaspora to bring change.
Nykhor Paul was interviewed by Megha Mohan
Next story: Olympic opening ceremony outfits likened to erasers
Iranians and Georgians appalled by national uniforms designed for Olympics opening ceremony. READ MORE
You can follow BBC Trending on Twitter @BBCtrending, and find us on Facebook. All our stories are at bbc.com/trending.