Hillary Clinton: "Secretary of the Status Quo"?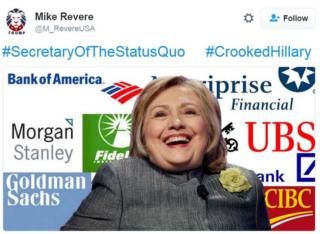 As Mike Pence took the stage at the Republican National Convention he did something more than make his position as Donald Trump's running mate official. The Indiana Governor gave social media the gift of a meme and hashtag-worthy phrase.
In his maiden speech as the US vice presidential nominee, Pence turned his attention to the Democratic Presidential nominee, saying that she "personifies the failed establishment".
And referring to Clinton's former position as the Obama administration's representative of foreign policy as Secretary of State, Pence inferred that America had already seen Clinton in a high profile leadership position. It knew what it could expect from her. Clinton, he said, was the "Secretary of the Status Quo".
This phrase soon started trending as social media users took up the hashtag #SecretaryoftheStatusQuo to paint Clinton as the anti-change candidate of vested interests. Several referenced her well documented ties to Wall Street.
And although the theme resonated strongly with many Republicans it also chimed with the thinking of many in Clinton's own party who are supporters of her rival Bernie Sanders.
During the battle for the Democratic nomination, Sanders famously sparred with Clinton over plans to regulate the power of financial corporations at Wall Street. He had also previously attacked her foreign policy saying that she was "too eager to use US military force". This criticism was echoed by some of the Sanders loyalists who shared the new hashtag.
Others played with the suggestion that Clinton was not very interested in shaking things up in Washington and wondered what would have happened if other historical figures had decided not to rock the boat.
Fans of Hillary Clinton were soon to come to her defence, wondering if Pence's jibe was the best that the Republicans could do in terms of takedowns.
It was noted by several in the liberal media that it was Clinton - not Trump - who had been the subject of attention at many of the GOP party politicians' speeches at this Republican National Convention so far.
Ted Cruz in particular refused to publicly endorse Trump, although he did criticise both Clinton and President Barack Obama. Cruz told voters to "vote your conscience". Hillary Clinton's official twitter account seized on the opportunity.
Similarly, House Speaker Paul Ryan only mentioned the Trump's name twice, and Michael Mukasey, who was the former attorney general under George W. Bush, condemned Clinton for her use of a private email server to conduct government business whilst Secretary of State. (The FBI Director James B. Comey said that this had been "extremely careless," behaviour on Clinton's part).
"Hillary Clinton is asking the people of this country to make her the first president in history to take the constitutional oath of office, after already having violated it," Mukasey said.
Blog by Megha Mohan
Next story: 'Send me back to Africa' - a unique response to racism
African-American man starts fundraising petition in response to racist comments. READ MORE
You can follow BBC Trending on Twitter @BBCtrending, and find us on Facebook. All our stories are at bbc.com/trending.