The campaign that 'shot' Mark Zuckerberg in the face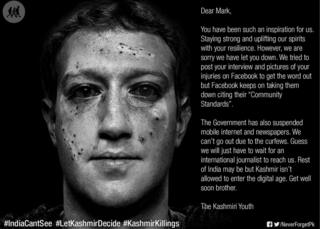 How did Mark Zuckerberg's face become a symbolic weapon in the online battle over Kashmir?
An image of the Facebook CEO, photoshopped to appear as if he had been shot in the face by the controversial pellet guns used by security forces in Indian-administered Kashmir, has been widely shared on social media in the last few days.
It follows a raising of tensions in Indian-administered Kashmir. Both India and Pakistan claim Kashmir in its entirety. Many people in the Indian-administered territory - especially in the Muslim-majority Kashmir valley - do not want it to be governed by India.
The current increase in tensions started after Burhan Wani, a 22-year-old commander from the Hizbul Mujahideen militant group, was killed in a gun fight with Indian government forces in Indian-administered Kashmir on 8 July.
Wani was a popular figure among those in the region who do not want to be governed by India. He had become a social media star after appearing in a series of online videos. His funeral drew thousands of people who shared his aim of Kashmir becoming independent of India. Tens of thousands from both India and Pakistan posted on social media using the hashtag #IamBurhanWani.
A curfew was imposed in Indian-administered Kashmir, newspapers were temporarily banned and mobile internet was suspended. Nearly 50 people have been killed in clashes between protesters and Indian security forces. Hundreds more have been injured.
Activists have criticised India's use of pellet guns - air guns that fire metallic ball bearings - which India says it uses because they are non-lethal. However many have been injured severely during protests by the pellet guns, including a four-year-old child according to Indian media reports. Hundreds have also been hit in the eye and some have been blinded, says another paper. India is investigating allegations of the excessive use of force and a federal minister has asked forces to refrain from using the guns. India has now set up a panel to look at alternatives.
As a commander or Hizbul Mujahideen, Wani was part of a violent and armed separatist group that India - as well as the US and the European Union - has designated as a terrorist organisation. So it's perhaps no surprise that thousands complained about some Facebook posts mentioning or mourning his death. Some posts were reportedly taken down by Facebook. That has led to accusations that Facebook is "censoring" legitimate criticism of India's armed forces. One campaign that's going viral is led by activists from Pakistan and has used doctored images of Zuckerberg and Indian celebrities and politicians to make that point.
The group is called Never Forget Pakistan, and it's led by Jibran Nasir - a well-known internet campaigner and lawyer who BBC Trending has reported on before when he took on a leading Pakistani Muslim cleric for supporting the Taliban. This time, the campaign is all about India and the accusation that it is ignoring human rights with laws that give its armed forces special powers in Indian-administered Kashmir.
The Pakistani campaigners have managed to pick up tens of thousands of 'likes' and reactions for an album posted on their Facebook page showing pellet injuries edited onto the faces of Indian Prime Minister Narendra Modi, Indian opposition leader Sonia Gandhi, Indian cricketer Virat Kohli and top Indian movie stars. Zuckerberg's is the obviously non-Indian face in the campaign.
"We included Mark Zuckerberg's face because we find it a bit baffling that community standards of Facebook were being violated by simply posting images of injuries and violence that Kashmiris are suffering from. It was censorship," says Nasir.
And censorship is also the allegation that some activists are making against Facebook when it comes to the wider issue of Kashmir. Some pro-Kashmiri independence supporters allege that their Facebook accounts were being temporarily suspended, and posts in favour of Kashmiri self-determination were being removed. They have accused Facebook of taking down videos showing violence by Indian security forces. Overseas-based academics set up an online petition accusing Facebook of "censoring" Kashmiri activists. One UK academic Dibyesh Anand tweeted about how Facebook apologised for removing his post "in error" but then temporarily blocked him again.
Mark Zuckerberg and the Indian prime minister are seen by some observers as being close and sharing some common goals: The Facebook CEO is committed to his company's Free Basics internet app which was blocked in India earlier this year, and Modi wants to to expand the country's digital infrastructure.
The Pakistan government says it's concerned about reports of Kashmir posts being blocked by Facebook - calling for the company to be objective in dealing with international disputes.
Facebook's defence is pretty clear.
In an emailed statement, a company spokesperson said: "Facebook's community standards prohibit support or praise for organisations and the leaders of those organisations that engage in terrorist activity from using the platform." Hizbul Mujahideen is a proscribed group around the world. Facebook identifies groups as dangerous after consulting lists produced by governments, international organisations and academic research organisations. They monitor content that is flagged, and posts are removed as soon as they are reported. Those which are investigated and found not to have breached the community standards are then restored.
The Pakistani activists' campaign isn't just about the Indian use of pellet guns. Another hashtag used by the campaign is #LetKashmirDecide, a reference to a controversial 1948 UN resolution which called for a referendum on Kashmir's status. India maintains that the solution to the Kashmir dispute lies in talks.
Facebook has not taken down the graphic images of its CEO and the other celebrities uploaded by the campaign. The album has been shared in both Pakistan and India - but the comments section has predictably drawn accusations and counteraccusations against the armed forces of both countries.
There was, of course, a much wider discussion about the Kashmir issue online too - which saw polarised debates between Kashmiris and voices from both India and Pakistan.
There has also been concern about how Wani has become an icon for disaffected youth. Former chief of Indian-administered Kashmir, Omar Abdullah tweeted: "Mark my words - Burhan's ability to recruit in to militancy from the grave will far outstrip anything he could have done on social media".
A poem on Twitter spoke about the "forced" exodus of Kashmir's minority Hindus and how they hadn't taken up arms. Journalist Rahul Pandita wondered whether a section of leftists "have succumbed to a narrow view of Kashmir". Another widely-shared post by a civil servant from Kashmir raised how the media coverage was "breeding more alienation and anger in Kashmir than what Indian state can manage".
Blog by Samiha Nettikkara
Next story: 'We can't keep painting over our problems'
You can follow BBC Trending on Twitter @BBCtrending, and find us on Facebook. All our stories are at bbc.com/trending.