Pokemon made me do it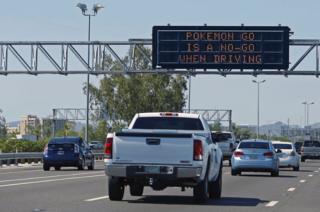 For better or worse, Pokemon Go has become an enormous international phenomenon in a very short time.
The augmented reality game is causing many players to venture out to places they would not normally go in search of their onscreen prey. But it's also making some non-believers wish they could escape to another planet to get away from all the hype.
Players in the US, Australia and Germany have already been making the most of their free time and now more gamers can get involved following its UK release.
Many of them have been using the hashtag #PokemonGoMadeMe to reveal where the quest to populate their Pokedex has taken them.
But others sigh that if so many grown adults are spending so much time running around with their phones chasing Pidgies, Squirtles and Weedles, then human civilisation may well have peaked.
Even some enthusiasts themselves admit they have lost track of everything else. Jobs are at risk.
As are relationships.
There's a sense that some important things are being left to slide.
Though for real-life pets the picture is mixed.
And one animal shelter in Indiana has had the bright idea of inviting Pokemon players to take rescue dogs along for the walk while they are searching for Pikachus.
Another unanticipated consequence of the game's popularity is that there has been a spike in searches for kilometre to mile conversions in the wake of the game's success, according to Google Trends. Units are measured in kilometres, which presents a challenge for those not raised in a metric world with no in-game setting which allows users to change measurements.
One thing looks certain for the time being: people can't get enough of Pikachu and friends - even if their phones can.
Watch BBC Trending's Pokemon Go Facebook Live
Blog by Harry Low
Next story
The black cop who has a problem with 'Black Lives Matter'
You can follow BBC Trending on Twitter @BBCtrending, and find us on Facebook. All our stories are at bbc.com/trending.