Healing crystal theft claim puts singer 'at risk of bad energy'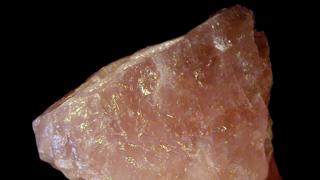 A stolen crystal said to have healing qualities. A famous singer who claims to be the thief but probably isn't. Los Angeles. A perfect combination of ingredients for a mystery worthy of Hollywood.
"This loving rock has given so much to an entire community and has much more to share...To whomever took her out the door, you do not want the energy of a stolen crystal, please trust me!"
This was the warning posted on Instagram by the social media gatekeeper of a popular high-end New Age health shop in Los Angeles from where the crystal was taken. The message was clear; the thief should return the stone or reap a karmic whirlwind, because this was not just any stone, but a rose quartz crystal.
It's described on the lifestyle blog LAist.com as "a stone of the heart, a Crystal of Unconditional Love... It speaks directly to the Heart Chakra, dissolving emotional wounds, fears and resentments, and circulates a Divine loving energy throughout the entire aura." Though it's difficult to put a monetary value on such an object, a similar looking crystal on the CWS Healing site costs £2.50.
The scene of the crime is equally intriguing. An LA shop called Moon Juice. The shop is described on its website as a provider of "alchemy to nourish and elevate body, beauty and consciousness". Some bloggers have unkindly called the shop's owner, Amanda Chantal Bacon, and her ethos "pretentious". However, Gwyneth Paltrow is a fan. She uses the shop's $55 "dust" as an ingredient in some the recipes of her lifestyle blog Goop.
So, when Moon Juice said that a crime had taken place in one of their two LA outposts, it was bound to grab the attention of someone high profile. Enter bearded indie rock singer Father John Misty, who is no stranger to dragging people on social media. (He has been described by NME music site as "a certified troll").
In an Instagram post that has been shared more than 9,000 times Misty claimed responsibility for the crime. With his virtual tongue firmly in cheek, he wrote that he isn't sorry for the act because "to claim that something has been 'stolen' is in itself a tacit endorsement of the capitalist values that blended superfoods and locally sourced produce stands, ironically, in direct opposition to."
Seemingly unconcerned by the warnings about the dangers of the bad energy that might be emitted from a stolen crystal, Father John further excused the act. And, in keeping with the ethos of New Age thinking, wrote that it was all part of a divine plan.
"The universe, however you may define her, brought this crystal into my life at what can only be described as a 'pivot moment'... While I empathize with your loss I do believe that there is a larger lesson to be gleaned from this experience: namely that material goods, no matter how sacred, WILL come and go from your life."
He might have a point. The blog Crystals and Gem Stones, wrote that a crystal may organically leave your life due to the following reasons: "divine intervention, giving us messages from angels or spirit guides the crystal didn't resonate with our energy/vibration, the crystal was called to benefit someone else, it served its purpose for us and had to move on."
But Father John Misty couldn't help take a swipe at the shops prices and targeted Moon Juice's $12 juices:
"Also your smoothies are inconsistent to say the least but largely impossible to steal so that is an injustice that I must face, and I accept with an open heart knowing that each watery gulp is an invaluable teaching moment."
Moon Juice owner Amanda Chantal Bacon told Trending:
"As of yet the crystal has not been returned. We remain hopeful that it will be. As for Father John Misty claiming responsibility, I'm sceptical! If he does have it, however, I invite him to come on over, return the crystal, and I'll make him a Moon Milk that will blow his mind."
Trending has approached both Father John Misty for comment.
Blog by Megha Mohan
Next story: How controversial is it to kiss your child on the lips?
A photo of Victoria Beckham kissing her daughter Harper on the lips has divided opinion on what is appropriate parental behaviour. READ MORE
You can follow BBC Trending on Twitter @BBCtrending, and find us on Facebook. All our stories are at bbc.com/trending.