Date mix-up leaves Beyonce fan crazy in lurch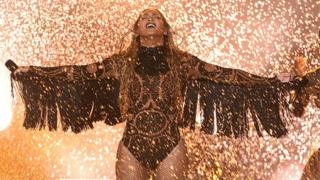 It's a music fan's worst nightmare. You've forked out hundreds of pounds to see your favourite performer in concert. But when the big day arrives you realise that actually the big day was last night.
South African photographer Tammy Daubney had just such a heart-in-the-mouth moment on Sunday when she realised the tickets she had to see Beyonce at Wembley Stadium in London were actually for the Saturday show.
Tammy said: "We were on the train and I was checking the Ticketmaster app on my phone to figure out how and where we were meant to collect the tickets (box office collection). (It) only had past events tickets on my account".
Devastated at her discovery, she tweeted her moment.
Within minutes her cry of disappointment had been re-tweeted several hundred times. Many fellow fans responded in the only way they know how - with crying memes and dreadful puns involving Beyonce song titles.
Other fans sympathised with Tammy's predicament having been through similar experiences themselves.
Tammy is a huge fan. "I'm known to break out into Beyonce when I've had a few drinks. And I always play her songs on repeat to the annoyance of everyone else. I have been playing 'Lemonade' nonstop."
And Tammy says a few drinks may have been the root cause of the date mix-up. Some alcohol had been consumed when she booked the tickets.
"I heard her tickets sold out so didn't think there'd be a chance anyway. I had a few drinks on Thursday - googled 'Bey Wembley tickets' - lo and behold! Tickets available! Couldn't book for Saturday as we had plans and thought I was booking for Sunday. I didn't check details because I assumed I'd selected the right date..."
Tammy tweeted both Beyonce and the ticketing company for help, but appreciated that she was to blame. "I felt the need to ask Ticketmaster if there was anything to be done. It was obviously my fault. They had no tickets left so I couldn't even buy new ones."
Some people offered advice in the hope that Wembley Stadium staff might have been able to turn a blind eye.
Despite Beyonce thanking her fans for a sell out show, others commented on how parts of 90,000 capacity venue looked sparse. This fan didn't go to see Beyonce last night but keenly watched Snapchat and saw snaps of empty seats.
One report blamed ticket touts who regularly buy tickets then fail to sell them all at their marked up prices. Not to get too down hearted, Tammy's husband did his best to try to make up for her disappointment.
Tammy and her family did a spot of sight seeing afterwards. This photo was taken with a statue of Queen Victoria. She said, "Queen V - not quite the same as Queen Bey".
Tammy said: "It was fun but it certainly wasn't Beyonce".
Blog by Anisa Subedar
Next story Let sleeping politicians lie
After a photo of an Indian politician asleep in a meeting goes viral, a colleague puts the case for power naps at work. READ MORE
You can follow BBC Trending on Twitter @BBCtrending, and find us on Facebook. All our stories are at bbc.com/trending.