Breaking Bard: Ruining Shakespeare for fun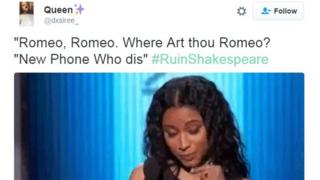 In this week of seismic political change in Europe, a deadly terror attack in Turkey and troubling protests by police officers in Rio, social media has not been finding much funny. However, a viral hashtag has been providing some respite. And it's all to do with Shakespeare.
When you think of Britain's contribution to culture, we bet the Bard crops up in your thoughts somewhere. This year marked the 400 year anniversary of William Shakespeare's death. And it's perhaps a good thing that he's not around to see how social media has been mangling his greatest work in the last few hours.
The hashtag #RuinShakespeare invited people to adapt the great playwright's works to contemporary times and, well, mess it up, and the internet happily delivered.
There were plenty of references to Millennial behaviour.
And those stalwarts of popular culture, the Kardashians.
Remember that great debate about why Kate Winslet didn't let Leonardo DiCaprio on her raft in the final scenes of Titanic?
And the iconic Lionel Richie 'Hello' music video (a.k.a your dad's favourite song) also got a shout-out.
The references were also timely. Remember that it's the summer festival season.
And political figures were very much on people's minds. US Presidential hopeful Donald Trump's hair came under the spotlight.
Although the hashtag originated on the US comedy show Midnight it quickly spread around the English speaking world. And it was applied to British politician Nigel Farage's controversial post-referendum speech at the European parliament on Tuesday, telling fellow MEPs that they had never done a "proper job".
Blog by Megha Mohan
Next story Germans reveal why they still 'Love UK'
Silly walks and queues are some of the reasons why Germans say they still love Britain after the Brexit vote.READ MORE
You can follow BBC Trending on Twitter @BBCtrending, and find us on Facebook. All our stories are at bbc.com/trending.