'Independence Day' trends after EU vote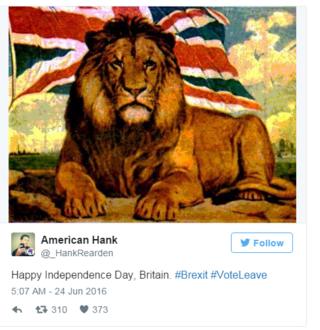 For many supporters of the victorious Leave campaign, 23 June was quickly dubbed the UK's 'Independence Day' online - although others took issue with the phrase.
Inspired by Boris Johnson and Nigel Farage - Farage called for an annual bank holiday to commemorate the vote - more than 65,000 tweets included the phrase in the hours after the polls closed. The main sentiment under the hashtag #IndependenceDay? Jubilation.
A number of the most popular tweets actually came from the United States, where many conservative activists also cheered the result.
Chatter under the hashtag was not universally positive however, as critics of the Leave movement also voiced their views. Many scoffed at the idea of the EU as a colonial power. "I'm astounded by the insensitivity of people calling this our 'Independence Day', we were not colonised by the EU," tweeted one.
The Hollywood film "Independence Day 2: Resurgence" is also just out, which wasn't lost on people.
Next story: 'What have we done' - teenager anger with EU referendum result
As the result of the EU referendum became clear, the poll's divisive effects across generational lines became highly visible online.READ MORE
You can follow BBC Trending on Twitter @BBCtrending, and find us on Facebook. All our stories are at bbc.com/trending.