Remain plea by unlikely EU pundit Lindsay Lohan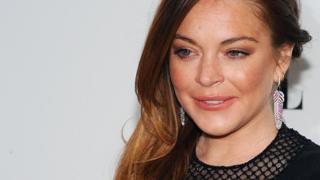 The Hollywood star Lindsay Lohan has emerged overnight as an unlikely EU pundit with a series of social media posts in which she has pleaded with Britain not to leave the European Union.
The Freaky Friday actress first indicated her interest earlyish in the night when she tweeted seeking information about Sunderland which had been expected to provide the first result.
Social media politely responded and so did Lindsay.
The BBC also got thanked.
By now there were suspicions that perhaps the actress was not the author of these tweets. Had yet another celebrity account been hacked? No, Lindsay confirmed, she really was taking a close interest in the count and she was anything but a neutral observer. A majority of voters in Shetland backed Remain and they received her warm thanks.
Switching to her Instagram account Lindsay posted a video filmed off a television of the BBC's referendum graphics projected onto the outside of Broadcasting House.
However, a series of strong results for the Brexit camp seemed to darken the mood. It was time to show some tough love.
Displaying a surprising depth of knowledge - or perhaps quoting from a handy Remain leaflet - she wanted to remind voters what the EU had done for them.
And explaining that she had once lived in Manchester, she seemed to take the Brexit victory in Bury as almost a personal betrayal.
This was something that affected the highest and lowest in the land.
It wasn't just the future of the British people that hung in the balance.
By now some observers were getting over the novelty of having a Hollywood star wading in to support the Remain cause. Lohan's passion for the subject seemed genuine, but her timing, some dared to venture, was more than a little off.
But for others Lohan's running commentary was making an already memorable night unforgettable.
Blog by Ed Main
Next story EU referendum: Who are the Gibraltar 823?
As expected most Gibraltarians voted for Britain to stay in the EU. Now the web is wondering about the minority who didn't. READ MORE
You can follow BBC Trending on Twitter @BBCtrending, and find us on Facebook. All our stories are at bbc.com/trending.