Keith's mum, pencil plots and other EU referendum day trends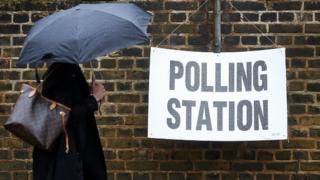 As millions cast their vote in the EU referendum the discussion on social media couldn't have been more British.
The appalling weather and dogs were key topics of conversation as well as a 'conspiracy theory' about pencils. And then there was Keith's 93-year-old mum.
Keith Adams probably couldn't have anticipated the social media storm that was triggered when when tweeted about his trip to the polling station with his Leave supporting mother.
As a result both Keith and 93yr Mum trended in the UK. The hashtag #KeithsMum was also popular. Many people it seemed doubted her existence.
Keith was roused to post a series of tweets saying that his 93-year-old mum does exist, and that the event did indeed happen. Something which definitely didn't happen was this parody account's story about another dutiful son's visit to the polling station with his nonagenarian parent.
For many voters, especially in the South East, referendum day started in an ominous way with dramatic thunder and lightning that struck in the early hours. This could not have been a coincidence, right?
The weather did cause genuine disruption at some polling stations.
But were people getting carried away? This spoilsport felt so.
Then there was the issue of the pens, and the fears of some, mostly on the Brexit side - that if you cast your vote in pencil it might be erased and changed by unseen hands who wanted to allegedly rig the result for Remain. By the close of polls the hastags #usepens and #pencilgate and was tweeted more than 50,000 times.
Some thought this was giving the Illuminati and their local authority minions too much credit.
You might remember that at the British general election last year dogs at polling stations was a thing. Well, not only did that trend again, but someone decided to give it a 2016 remix. Look at this dog at a polling station. With a pen!
A lot of people predicted what life would be like once out of the European Union. The post below has a twist, by the way.
However, as polls closed #IVotedLeave was Britain's top trend on Twitter as Brexit supporters stated why they voted the way they did. This one was, we hope, tongue in cheek.
Blog by Megha Mohan
You can follow BBC Trending on Twitter @BBCtrending, and find us on Facebook. All our stories are at bbc.com/trending.