The day when they wanted to rename Babylon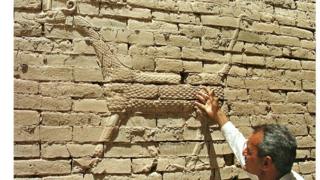 Babylon, the legendary city, is a name known to everyone. It has lent its name to the Iraqi province of Babel but some people allegedly now want to change that.
Many Iraqis were not particularly impressed to read news website reports that said a Shia organisation wanted to rename Babel Province. The Imam Hussein Holy Shrine reportedly announced that it would hold a festival in Babel to announce the province's name would be changing to Imam Al-Hassan.
The shrine's committee supposedly believed it would be a good way to honour the generosity of local residents ahead of a religious festival.
But local residents had a different opinion. A hashtag in Arabic #My_Name_Is_Babel, was launched after the news on 19 June and managed to garner about 20,000 tweets over the past three days defending the name of the province.
The shrine committee quickly denied the reports that they had ever wanted a name change. But some social media activists posted a screen shot of what they said was an earlier - now deleted - announcement.
Mustafa Saadoun, an Iraqi journalist, told BBC Trending that when a group of activists heard about the plans to change the name by a religious group, they launched the hashtag to defend ancient heritage. "Babylon is a great city with a history dating back well over 5,000 years. It is not our own history, but a history of all humanity," Saadoun said.
He believes media pressure on the shrine committee made them abandon their renaming plans.
---
Follow BBC Trending on Facebook
Join the conversation on this and other stories here.
---
Images of Babylonian King Hammurabi and the Lion of Babylon were widely shared by Iraqi social media users who participated in the campaign.
Many felt indignant that the issue was only bringing more discord to the nation, torn apart by sectarian violence.
"What differentiates you from Daesh [a pejorative term for the Islamic State group, IS] if you want to change the culture and history of this country? It is Babel despite you," another user tweeted.
"There are those who seek to Islamise everything in Iraq," Saadoun said. He believes certain people do not value the name because it doesn't have any connection to Islam.
And in the opinion of Saadoun, such moves to change historic names are akin to the cultural destruction wrought by the likes of the militant group Islamic State.
Blog by Dmytro Zotsenko, additional reporting by BBC Monitoring
Next story The international language of watermelon knocking
An Italian supermarket causes a social media storm in China by urging customers not to knock watermelons to test their ripeness. READ MORE
You can follow BBC Trending on Twitter @BBCtrending, and find us on Facebook. All our stories are at bbc.com/trending.