No woman ever turned down a barking guy? Right?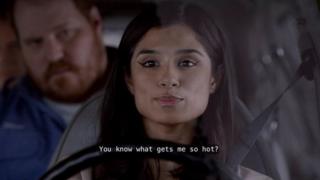 Women are using the hashtag #NoWomanEver to humorously highlight their not-so-funny experiences of wolf whistles, sexual comments from passing strangers and other street harassment.
Although the hashtag isn't entirely new it's been used more than 140,000 times in the last couple of days after an American social media user called Miss Black Awareness revived it to sarcastically applaud the actions of a man whose unwanted advances she had seemingly recently suffered.
She posted a number of tweets using the hashtag, such as: "He randomly walked next to me down the street for 5 whole minutes. I admired his tenacity and knew he was the man for me" #NoWomanEver" or "I was on my lunch break, and he said 'Oooh, I bet you waaaayyy more delicious than that salad' so I gave him my number" #NoWomanEver".
The baton was soon picked up many others who used #NoWomanEver to recount their treatment by men.
"I wasn't attracted to him. I politely declined his number. But when he followed me off the bus? 😍😍😍" #NoWomanEver," one user tweeted.
"When he pulled my earplug outta my ear for not responding? My heart melted" - #NoWomanEver," another said.
All types of stories poured in from women not happy about the way they could be treated in the street.
---
Follow BBC Trending on Facebook
Join the conversation on this and other stories here.
---
Interestingly, the tweets did not go unnoticed to some men online, who apparently were appalled by such practices and called for more respect to women.
#NoWomanEver is not the first time that social media has been used to hit back at street harassment. A YouTube video which showed the unwanted attention that one woman received walking through New York has been viewed more than 40 million times. And in Brazil women and girls used the hashtag - "primeiroassedio" - which translates as "first harassment" to talk about their experiences.
Blog by Dmytro Zotsenko
Next story 'Cringe pop' creator defies her critics
The Keralan star of a much-ridiculed music video tells her critics to listen to the serious message of her song. READ MORE
You can follow BBC Trending on Twitter @BBCtrending, and find us on Facebook. All our stories are at bbc.com/trending.