'Cringe pop' creator defies her critics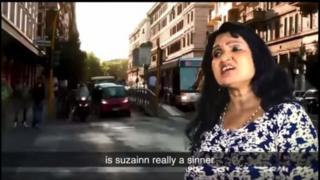 The song was intended to inspire women. It was supposed to highlight discrimination and misogyny and promote empowerment. But something didn't go quite right.
Jacintha Morris, a 52-year-old civil servant from Kerala in southern India, has been called 'India's answer to Taher Shah' (the singer behind the viral song Angel).
Her song 'Is Suzainn the Sinner' (scroll down the page to see it) has been viewed online more than 100,000 times (although Morris has deleted her original upload, it has been cloned by several other people). Some social media commentators have dubbed Morris and Shah the creators of 'cringe pop'.
This may seem a little unfair as the song loosely tells the story of a conservative woman who decides to become more flamboyant.
In the song the woman's change of behaviour causes a mixed reaction from people around her. The men are happy.
But others raise an eyebrow.
Morris told BBC Trending that the video for 'Is Suzainn a Sinner' attempted to illustrate the different seasons of a woman's life. She starred in video along with her daughter and brothers-in-law. But the video production and lyrics, soon caught the attention of social media.
Suzainn is an amalgamation of a lot women in Kerala, Morris told Trending; especially the ones who want to express themselves or ones who don't have traditional lives, like her divorced friends.
"The so-called bad ones," says Morris. But then the trolling started. Not just by the armchair critics but also traditional media.
"The worse nightmare happened when online papers wrote a very filthy report about my video, tagging me with the Pakistani singer Taher Shah. Then, ridiculing all the family members, my daughter," says Morris. "I was so very upset, so sad, and didn't understand the tags, or Taher Shah, or anything." It was then her children called her to tell her to delete the YouTube video following a flood of negative comments.
She did delete the video, adding that she had, in some ways, "become the Suzainn" in her video. But as the video had been downloaded, it was immediately re-shared. This time, as Jacintha Morris there were some more positive comments.
Morris told Trending that although a lot of people in social media called her a feminist, she doesn't identify herself as one, although she does want to "protect the women of Kerala" from judgment.
She says she does have a message to those who leave negative comments on social media.
"Please do not murder the talented ones. Especially those who want to do good for others, those who want to help, those who stand against injustice particularly the female gender."
Blog by Megha Mohan
Next story Who could forget wherever it is
Russians react after a photo of a Finnish town is mistakenly used to promote Moscow. READ MORE
You can follow BBC Trending on Twitter @BBCtrending, and find us on Facebook. All our stories are at bbc.com/trending.