Euro 2016: Fans get shirty over Ronaldo snub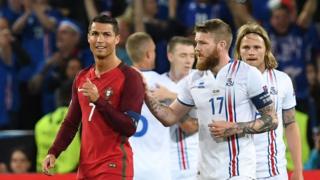 Fans have been offering Iceland's captain Aron Gunnarsson the shirts off their backs after he was snubbed by Portuguese star Cristiano Ronaldo following the final whistle of the two nations' Euro 2016 match on Wednesday,
It's deep in injury time, Portugal and Iceland are level at 1-1 and Cristiano Ronaldo is lining up a free kick. He runs up and, as the ball hits a wall of Icelandic players, the referee blows the final whistle. Cue wild celebrations from the the smallest nation ever to reach a major tournament.
Ronaldo stormed off the pitch, ignoring attempts from Iceland's captain to swap shirts, a gesture which has become something of a tradition for footballers.
The Real Madrid star further compounded the offence by describing his opponents as "lucky" and appearing to disdain the Iceland fans by saying: "I thought they'd won the Euros the way they celebrated at the end. It was unbelievable."
As a result Ronaldo was labelled a "bad loser" and "petty" for his reaction. And fans who wanted to show solidarity with Gunnarsson's sporting behaviour began tweeting using the hashtag #ShirtsForAron with pictures of the shirts they were prepared to swap with the Icelandic captain. One person even offered a shirt knitted for their cat.
"We love you Aron. Don't feel sad," posted Simerazzi.. "We can change our shirts anytime you want captain!" wrote Bulut Parlakcelik. "Don't mind Ronaldo, we are here," commented Frank Costanza.
Many of those offering to give up their shirts appear to be Turkish fans. It's possible that the nationality of the referee, Cuneyt Çakir, who is Turkish, may have been a factor. Ronaldo was critical of the referee immediately after the game ended.
Blog by Harry Low
Next story
How one woman responded to an unwanted penis photo
You can follow BBC Trending on Twitter @BBCtrending, and find us on Facebook. All our stories are at bbc.com/trending.