Australian 'blackface' makeup tutorial goes viral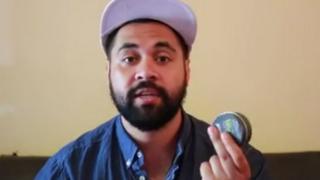 A satirical video showing "whitefellas" how to "do blackface properly" has gone viral. Australian actor and writer Bjorn Stewart's latest video posted on the Cope St Collective Facebook page has been viewed over 84,000 times.
In the video Bjorn says in a dead-pan voice: "I've been getting a lot of comments lately on how to do blackface and how to look like an aboriginal. So today I'm going to teach you how to do blackface."
Holding up a tin, he says: "What we are about to do is apply some shoe polish...What we are going to do with the shoe polish is .... not do ******* blackface, you dumb ****" as the swear words are bleeped out and the credits roll.
---
Follow BBC Trending on Facebook
Join the conversation on this and other stories here.
---
So why has this video become such a hit? Well, it follows a series of "blackface" incidents in Australia, where white people have dressed up and painted their faces and bodies black and then posted pictures of themselves on social media.
Bjorn is from the Indigenous nation Kuku Yalanji of North Queensland and a member of the Cope St Collective, a group of Aboriginal artists. He told BBC Trending that the collective decided to make the video after two white Australian men painted themselves in blackface to portray Aboriginal men.
"Despite the massive outcry from the Aboriginal and Torres Strait Islander community, it seemed to us that the majority of Australians responded with "blackface isn't racist," he said.
"We're sick of the excuses for racism, there is no excuse. We're sick of white people telling us what's offensive and telling us what's racist.
"A lot of Australians don't know the history of blackface and its relation to tokenising and ridiculing a race of people. Even if it's with good intentions the behaviour is deeply rooted with racial stereotyping. You'll hear every excuse in the book but bottom line is, if you blackface, you're ignorant."
So why do a satirical video? "People respond more to comedy" says Bjorn and he wasn't wrong but what has the reaction been like?
"There are a lot of Australians out there that feel the exact same way as us blackfellas. I was expecting the occasional troll comment or someone defending blackface but overall it has been a good response from people. It puts a spring in your step knowing you made a lot of people laugh while seeing their support."
So it seems Bjorn is happy with the response but does he think it will make make a difference?
"If we stop at least one person putting on the shoe polish, then we're happy!"
Blog by Lorna Hankin
---
Next story: The 'Vimto Caliphate' - Islamic State group mocked over fake blood claims
IS extremists in Yemen are mocked online over a claim they used a soft drink as fake blood in propaganda videos of made up military victories. READ MORE
You can follow BBC Trending on Twitter @BBCtrending, and find us on Facebook. All our stories are at bbc.com/trending.