Spanish star stops show to come to fan's aid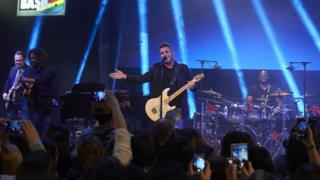 "Don't touch the music" was the first song Alejandro Sanz started to play during his concert in Rosario, Mexico on Saturday. But fans were left stunned when the singer stopped mid-song, put down his guitar and climbed down off the stage.
According to local media reports, the Spanish pop star confronted a man who was allegedly attacking a woman in the front rows of the audience. He then returned to the stage, pointed to the man and said: "Eso no se hace" which translates as "You don't do that." The man was eventually thrown out of the concert by security guards.
After the song finished, Sanz, who is currently on a tour around Latin America, is also reported to have said: "I'm sorry about what happened before, but I won't put up with someone laying a finger on someone else, especially not a woman."
A YouTube video of the incident has now been viewed more than 800,000 times and the hashtag #AlejandroSanz has been a top twitter trend in Spain over the past couple of days.
Many of those who have viewed it have taken to Twitter to express their support for Sanz in doing what he did. Others have said that although they don't like his music, they respect his actions at the concert in Mexico and applaud his efforts.
Follow BBC Trending on Facebook
Join the conversation on this and other stories here.
---
Even though the incident took place in Mexico, Spain's National Police also tweeted their support for Sanz and urged people to follow his example.
But a small minority of those who have commented on Sanz's actions have noted that the singer's lyrics have in the past sometimes displayed a questionable attitude towards women.
Mexico has high levels of gender violence and authorities in some of the worst affected states have put emergency measures in place to try to tackle it. And the issue has historically been a sensitive one in Spain, as it was not considered a crime under Francisco Franco, the dictator who ran the country from the 1930s to 1975.
Blog by Deirdre Finnerty
Next Story: Why is Facebook shutting down legal marijuana pages in the US?
A number of legal marijuana businesses have reportedly had their Facebook pages shut down... READ MORE
You can follow BBC Trending on Twitter @BBCtrending, and find us on Facebook. All our stories are at bbc.com/trending.