The satirical website that 'has a minority for every occasion'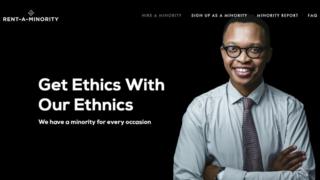 A satirical website offering "token minorities" for hire - to sprinkle diversity into marketing material or a conference panel - has amused thousands of people online. BBC Trending caught up with the woman behind the idea.
So you're arranging a corporate conference: you've found the perfect venue, sent invitations and booked a panel of industry experts. Just one problem. They're all white men.
Fear not, the Rent-A-Minority website has everything you need. From "intellectual black guys" to "cheerful women of colour", the site promises an unthreatening and under-represented minority guest in a few clicks.
It's a joke of course, aimed at lampooning the tech and media industries its creator says pay lip-service to the notion of diversity without making any meaningful changes.
The site has been live for just nine days, but has attracted plenty of attention on social media. It's been liked and shared more than 25,000 times on Facebook, and tweeted about more than 3,000 times.
Rent-A-Minority is the work of Arwa Mahdawi who works for an advertising firm in New York. She is half-Palestinian and half-English and tells BBC Trending she created the site because she was tired of seeing companies making superficial gestures to promote diversity.
"It's very frustrating when you're a minority yourself because while you're facing institutional hurdles, all the talk of diversity means a lot of people think you're benefitting from positive discrimination," she says. "What actually triggered me to set up the site was someone asking me - in a very matter of fact way - if being brown and female was an advantage in advertising, which is absolutely ridiculous."
She also says that in her view, the problem is particularly pronounced in the technology and media industries. While companies' marketing materials may feature a perfect ratio of minority faces, their boards of directors is often another story, Mahdawi's site argues - in an FAQ section where the joke is laid bare.
---
Follow BBC Trending on Facebook
Join the conversation on this and other stories here.
---
Despite the controversial issues the site raises, we've found little criticism online and reaction to the site has been overwhelmingly positive.
Some even questioned if everybody would get the joke.
Mahdawi says she hasn't had a genuine enquiry from any businesses yet, but has been contacted by a handful of individuals who may have missed the point, and want to register as minority guests, keen to speak at future conferences.
Next Story: Starbucks sexism row in Saudi - what's actually been brewing?
French activists react angrily after women are banned from a Starbucks store in Saudi Arabia. READ MORE
You can follow BBC Trending on Twitter @BBCtrending, and find us on Facebook. All our stories are at bbc.com/trending.