Starbucks sexism row in Saudi - what's actually been brewing?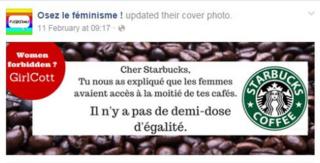 People in France are forgoing their cups of coffee in angry protest over a sexist sign in a Starbucks window - but have they overreacted?
The headlines in France seemed to tell a very clear story. "In Saudi Arabia, a Starbucks prohibits women," reported Le Monde. "Saudi Arabia: Starbucks prohibits women from entering," said Marie Claire. In recent weeks, several media outlets have run with the story.
With it has come an angry reaction from French feminists. A group called Osez Le Feminisme, who have almost 80,000 Facebook likes, paid a visit to a Starbucks and sang an anti-discrimination song. They likened Starbucks in Saudi to Nazi Germany and Apartheid and are boycotting the coffee chain.
But there's a twist: the branch of Starbucks in Riyadh that they are frustrated with actually has an explanation for their policy - and if this version is true, it's the Saudi authorities, not Starbucks, which are to blame.
The French reports about female anger in Saudi cite this tweet:
The user, Manar N, has no tweets dating before this month and the majority of her messages have been anti-Starbucks. She has repeatedly posted a sign in a Starbucks window which tells women to "send your driver" (i.e. a man) to order drinks. One version has been retweeted more than 1,000 times.
The story was actually first reported on January 31 by website Emirates 24/7. Their report says Starbucks was actually ordered not to admit women because its 'gender wall' had collapsed. A 'gender wall' is a feature of Saudi retail premises that separates men from women and families, and is a requirement enforced in Saudi Arabia by the so-called "religious police," the Commission for the Promotion of Virtue and Prevention of Vice.
---
Follow BBC Trending on Facebook
Join the conversation on this and other stories here.
---
So Starbucks have a point when they say it was local Saudi law that forced them to temporarily bar women, after their 'gender wall' collapsed.
"We have worked with local authorities to obtain approval to refurbish one of our stores in Jarir, which was originally built without a gender wall," they told CNN. "That meant it could only accommodate men in accordance with local law. This was the only such Starbucks store in Saudi Arabia. During construction, the store could only accommodate and serve single men, and a poster was placed at the store entrance as required by local law".
Local law it may be, then. But that explanation hasn't appeased the French feminist group Osez Le Feminisme, who say Starbucks' acceptance of Saudi law still amounts to them condoning discrimination. "There are no half-doses of equality," the group said on Facebook - and their boycott continues.
Next Story: A 13-year-old fights internet bullying the smart way
A tweet by the Spanish National Police Corps on Valentine's Day angers Spaniards. READ MORE
You can follow BBC Trending on Twitter @BBCtrending, and find us on Facebook. All our stories are at bbc.com/trending.