Police tweet about 'stealing' a kiss sparks consent debate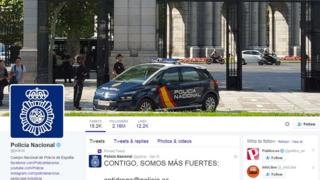 "If you 'steal' a kiss, it's not a crime".
This was an attempt by the Twitter account of the Spanish National Police Corps, @policia, to sound romantic on Valentine's Day.
It's an official account with a reputation for funny, light-hearted tweets - and two million followers. But on this occasion, people online interpreted the tweet as implying that it's ok to kiss someone without their consent.
The original message was posted on Sunday and translates in full as: "If you 'steal' a kiss, it's not a crime. Happy #Valentine's Day." It was followed by a kiss emoji.
Fifteen hours later, this had attracted over 2,500 retweets with some saying that it appeared to condone sexual harassment.
One of the tweets that propelled the criticism came from a left-wing Spanish political party, United Left, which tweeted: "If someone steals a kiss from you, that is sexual harassment and you should act, not encourage it".
The flood of tweets criticising the original post led the Spanish police to post a second message, clarifying the original, which read: "If your loved one steals a kiss from you by surprise, enjoy it! If someone steals a kiss from you without consent, report it!"
---
Follow BBC Trending on Facebook
Join the conversation on this and other stories here.
---
This response seemed to satisfy some. But others kept the criticism going, saying that sexual advances without consent are a crime, regardless of who they are from.
Domestic violence has historically been a sensitive issue in Spain. It was not considered a crime under the rule of Gen Francisco Franco, the dictator who ran the country from the 1930s to 1975. In 2004, the country passed new laws against gender violence which made it easier for victims to seek legal redress.
Next Story: A 13-year-old fights internet bullying the smart way
Luke Culhane and his father made a video to highlight cyber-bullying. READ MORE
You can follow BBC Trending on Twitter @BBCtrending, and find us on Facebook. All our stories are at bbc.com/trending.