Facebook director's 'colonial' comment angers Indians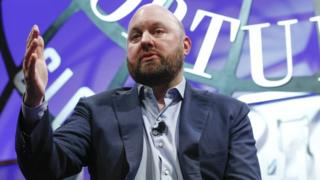 A member of Facebook's board of directors has apologised for attacking "anti-colonialism" when he waded into the fierce debate over access to the internet in India.
Marc Andreessen, a prominent Silicon Valley capitalist and entrepreneur, was defending Facebook's Free Basics plan - a controversial scheme to offer a free but basic internet service to poor Indians. The company argues that Free Basics, which would include Facebook along with Wikipedia, the BBC and local news and weather sites, would open up the internet to those who wouldn't necessarily be able to afford it.
But Indians opposed to the scheme argue that it violates the principle of "net neutrality" and say Free Basics would favour some internet services over others, and would ultimately benefit Facebook rather than than consumers. Earlier in the week, India's telecom's regulator ruled that the scheme was illegal.
Free Basics has been a hot topic of conversation in India and elsewhere since it was first launched in several other countries in 2014. On Wednesday, Andreessen responded, with apparent frustration, to an Indian entrepreneur who called Free Basics "internet colonialism" by tweeting the following:
Many Indians saw the remark as defending colonial rule and compared Facebook to the East India Company, a British corporation that with the help of its own armed forces dominated trade in India starting in the 1600s and which formed the basis of British colonial rule in the subcontinent.
"When did Facebook rename itself as [the] East India Company," asked one Twitter user. Another declared: "The mindset of Facebook is clear now."
Andreessen, who co-founded pioneering internet firm Netscape and also sits on the board of eBay and several other companies, later apologised and deleted his original tweet - although a screen grab has been shared widely.
He tweeted that he was "opposed to colonialism, in any country" and said that he would no longer comment on Indian economics and politics.
Blog by Nooshin Soluch
Next story: Greeks crow over Deutsche Bank woes
When the stock of Deutsche Bank hit a 30-year-low this week, Greeks responded with heaps of schadenfreude - and pictures of socks and sandals.READ MORE.
You can follow BBC Trending on Twitter @BBCtrending, and find us on Facebook. All our stories are at bbc.com/trending.