'The Doctor Who' - a slogan to defend a strike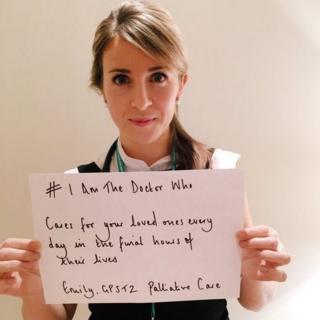 What do doctors actually do? Many of the junior doctors on a second 24 hour strike over their pay and working conditions have been reminding people of their work as part of a social media effort to gather support.
Using the hashtag #IAmTheDoctorWho, they posted emotive pictures on Twitter, with short descriptions on placards such as "I am the doctor who answered your questions when your child was admitted to Intensive care" and "I am the doctor who saw you for your skin cancer". Over 8,000 messages have been posted so far.
The tag was started on Tuesday by Dagan Lonsdale, 32, who works in the intensive care unit of South London's St Georges Hospital. "It was an idea by doctors at the hospital to show the public that junior doctors do a diverse range of things," he told the BBC.
"We are not fresh out of University with little experience, we are an integral part of the NHS. We have a huge responsibility and this was a way of highlighting what we do. We have been overwhelmed with the response we have received by doctors and patients".
How coordinated was the hashtag? Not at all, says Lonsdale. "We were relatively naive with social media. We do not have a spin machine like officials at the Department of Health".
Some patients are joining in, with another supportive hashtag, #IAmThePatientWho, sharing stories such as "#IAmThe Patient who is joining doctors in standing up for our NHS today."
The junior doctors strike is controversial with thousands of operations cancelled and appointments delayed so the online reaction has been mixed. Not everyone had sympathy for junior doctors - especially over one of the key disputes, changes to payments for working on Saturdays
Dagan is quick to respond to the criticism. "I'm sorry these people feel this way. I have always worked long hours, and at weekends," he says. I have also worked nine Christmases since qualifying. We are not on strike because we don't want to work hard or unsociable hours. I cannot work longer hours than I am now. "
It isn't the first time junior doctors have used social media to drum up support. In July, doctors started the hashtag #ImInWorkJeremy to protest against health secretary Jeremy Hunt's plans to impose a seven-day working week. And after the Sun newspaper called junior doctors "champagne-swilling socialists", a protest using the hashtag #smearthedocs began on Twitter.
Blog by Rozina Sini, BBC UGC/Social News
Next story: Iranian youth get app to dodge morality police
An anonymous team of Iranian app developers have come up with a solution to help young fashion conscious Iranians avoid the country's notorious morality police known in Persian as "Ershad" or guidance. READ MORE.