Leaflets pulled due to boob over Bobby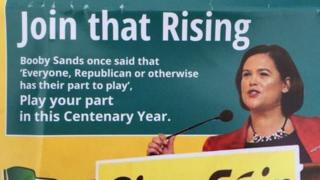 As unfortunate typos go it could have hardly been worse.
The Republic of Ireland is currently a few days into a general election campaign that is taking place amid the backdrop of the hundredth anniversary of the Easter 1916 rising.
In one campaign leaflet, Mary Lou McDonald, the deputy leader of Sinn Fein - the fourth-biggest party in the last Irish parliament - wanted to be quoted invoking the spirit of one of the figureheads of the Irish Republican movement, Bobby Sands, the IRA hunger striker who starved himself to death in the Maze Prison in Northern Ireland in 1981.
However, somewhere along the way Bobby became Booby and nobody noticed until the leaflets were printed and were starting to be distributed. Not surprisingly the error has caused some amusement and awful punning on social media.
The writer Paddy Duffy referenced the historical ties between the IRA and Eta, the Basque separatist group, in his post.
One person who is not so amused is Ms McDonald, who is one of the most recognisable faces in Irish politics. She has not responded well to some of the tweets and memes being circulated in response to the typo - including by an account attributed to a member of the youth wing of the ruling Fine Gael party. Dan McInereny photoshopped Ms McDonald's head onto a gif of the actor Matt LeBlanc from an episode of the TV series Friends in which he was buried up to his neck on a beach and given a sandy cleavage.
Ms McDonald dismissed this as "gurrier" politics - gurrier being Dublin slang for a hooligan - and accused her detractors of "scraping the barrel". But she has received some sympathy, however, including from a fellow politician north of the border - a member of the Irish nationalist party, the SDLP.
A Sinn Fein spokesperson told BBC Trending: "The leaflet was commissioned and printed by a local area [printers]. It contained a typo that should never have been printed or distributed. The leaflet has been withdrawn."
Blog by Stephen Fottrell.