'We are very sorry but Denmark is not such a bad place'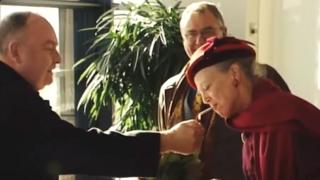 "Hello world, we are very sorry but Denmark is not such a bad place!"
So begins a satirical video created by the Danish state TV Channel DR3 with the aim of doing something about the country's recent "bad reputation". It follows widespread international condemnation of the Danish parliament's decision to pass a controversial bill which allows the government to confiscate some valuables from incoming refugees to cover the cost of housing and feeding them.
The English language video titled "Denmark Propaganda" has gone viral with more than 1.2 million views on Facebook in two days and has been shared more than 12,000 times.
Drawing on self-deprecation, the tongue-in-cheek clip then names the many great things in the country that the Danes are proud of: production of fine bacon, beer being cheaper than water to the extent that sometimes you can't always understand what Danes are saying and for simultaneously having high levels of individual happiness as well as an elevated suicide rate.
Then there are those dark TV crime dramas with detectives in quality knitwear, a monarch who smokes and of course Lego.
"It is a stone cold propaganda", says Irene Stoyer, the Danish TV channel controller, laughing away. "It is supposed to be funny. Something like, hello world, we make Lego, best bacon and have a royal family, please love us". Stoyer told BBC Trending.
---
Follow BBC Trending on Facebook
Join the conversation on this and other stories here.
---
The negative international reaction to the migrants assets bill from the UN and others has clearly stung Danes. The New York Times editorial headlined "Denmark's Cruelty Towards Refugees" was typical of the criticism. Denmark probably hasn't faced such an international outcry since the publication of newspaper cartoons of the Prophet Muhammad outraged Muslims around the globe more than a decade ago.
The new controversy is jokingly addressed in the video when a clip of a gold bracelet being paraded on an antiques programme is shown while the voiceover says: "We don't steal people's jewellery. We like design like this wooden monkey and Lego."
Stoyer says: "The video is supposed to rectify the nation's bad reputation. The message was that people needed a break. It is a very serious and difficult debate that has divided the country and people needed a break and needed to laugh at themselves".
The satirical video has received a flurry of praise and light-heated response, though most of it appears to be from Danes themselves.
"I'm pretty sure people still think Denmark is a town in Sweden, so don't worry about the bad reputation", says one on Facebook. "I'd say this is pretty much an accurate representation of Denmark", reads another comment on the video. "This kind of self-depreciation Dane fun things is one of the justifications why I did find it so very much easy to integrate here when I did moving here in 94", says a user who seems to be a migrant.
However, there are more serious responses as well. One Facebook user says: "With all the controversy spinning around Denmark atm, this should cheer any one of u. In my point of view it is not a good behaviour, the government's measures are not especially humanitarian for people who escape from bombs, atrocities, rapes etc."
Blog by Nooshin Soluch
Next story: 'Boycott death boats'
"Those who have decided to migrate, wait for the Summer. Boycott death boats." READ MORE
You can follow BBC Trending on Twitter @BBCtrending, and find us on Facebook. All our stories are at bbc.com/trending.