Why do Kenyans want US help to solve a billion dollar mystery?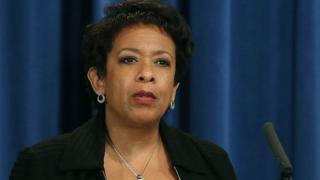 Almost one billion dollars of public money has allegedly disappeared in a Kenyan corruption scandal. So why are thousands of Kenyans using social media to ask the US government's most senior lawyer to locate the supposedly missing money?
The story began with a landmark sale of government bonds, but has led to accusations of corruption over what happened to the proceeds which were supposed to have benefited ordinary Kenyans.
Now some exasperated Kenyans have reached out to the US Attorney General Loretta Lynch for help. A White House petition entitled "Have US AG Loretta Lynch help Kenyans recover their looted Eurobond proceeds" has picked up thousands of signatures. And a Twitter hashtag #KenyansToLorettaLynch has been used thousands of times.
Some seem to think President Obama's Kenyan ancestry is good enough reason to get Lynch - a direct appointee of the US president - involved in their campaign.
But what exactly are Kenyans unhappy about?
The sale of government bonds to European and American investors in 2014 was supposed to raise US 2.82 billion dollars for crucial infrastructure projects and to pay off other debts. But almost one billion dollars from the Eurobond sale is now allegedly unaccounted for, and according to some reports appears to have disappeared.
The leader of the Kenyan opposition Raila Odinga has accused the current government, led by Uhuru Kenyatta, of misappropriation of the funds.
Kenya's central bank has strongly denied the claims. And rejecting calls for his resignation, the National Treasury Secretary National Treasury Secretary Henry Rotich has said that actually "no money was lost".
It's a view that was shared by Kenya's Ethics and Anti-Corruption Commission which concluded that it could find no evidence that any money had been stolen.
---
Follow BBC Trending on Facebook
Join the conversation on this and other stories here.
---
For many Kenyans that is simply not good enough. But why are they calling on Lynch to help with the case?
Part of the reason is that US banks have been accused of involvement - the funds raised by the bond sale were held in the US - and so Kenyan citizens think its government should intervene.
But some clearly believe that their own national leaders, of whatever party, have historically shown themselves to be incapable of tackling corruption allegations involving public officials. "Am thumbs up for the Eurobond saga to be handled by a neutral party", said one typical tweet.
Some are also possibly looking to the US government for action because of President Obama's remarks when he visited Kenya last year and called for "visible trials" to tackle corruption there.
And as for singling out Lynch in particular, many of the campaigners seem to hold America's first black female Attorney General in high regard. She has acquired a track record in handling big financial scandals, and played a key role in indicting 14 FIFA officials in 2015. "It is time to unearth every rotten deal in Eurobond and AG Lynch is capable," one comment on Twitter reads.
This isn't the first time that Kenyan citizens have looked to foreign powers to intervene in domestic affairs. When Pope Francis visited the country last year, a "Tell The Pope" hashtag emerged.
"Tell The Pope to tell politicians about hell. Because that is where they will end up if they continue stealing our money!" wrote one Twitter user.
But whereas that campaign was merely symbolic, this one appears to call for specific action. Lynch herself is yet to comment on the petition.
Next story: Is this the boy in the Messi bag shirt photo?
The mystery about the identity of the boy in the homemade football shirt that enchanted the internet appears to have been solved. READ MORE
You can follow BBC Trending on Twitter @BBCtrending, and find us on Facebook. All our stories are at bbc.com/trending.