Le Pen says 'election defeat due to €50,000 selfie'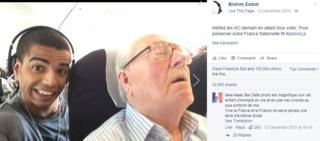 Could one unflattering selfie cost a political party electoral defeat?
This photograph, featuring a French far right politician asleep on a plane, has amassed almost 200,000 likes on Facebook and been shared more than 30,000 times.
Now the man who took it is being sued, and blamed for disrupting the recent French elections.
The man asleep on the right of the photo is Jean-Marie Le Pen, founder of France's National Front party. The man on the left is Brahim Zaibat, a professional dancer, and one of Madonna's ex-boyfriends.
Zaibat, who is half-Algerian, posted the picture on 12 December, after both men just happened to be seated near each other on a flight.
The date is significant as it was the day before the second round of France's regional elections in which the National Front were hoping for a string of important victories after a strong showing in the first round.
The photo appeared on Zaibat's Facebook with the accompanying message: "Knock out [the National Front] tomorrow by going to vote. Preserve our fraternal France!!! #Iloveit."
The picture was an instant hit among Zaibat's fans, who liked, shared and commented on it en masse. "This photo is beautiful. Long live France, it will never be the land of the far right," wrote one. It spawned a lengthy debate about racism in France, and Le Pen's relevance to the party he founded.
The following day the National Front - now led by Jean-Marie's daughter Marine Le Pen - failed to win a single region in the local elections in a result that surprised many commentators.
---
Follow BBC Trending on Facebook
Join the conversation on this and other stories here.
---
Jean-Marie Le Pen has now determined that the party's failure was at least in part down to Zaibat's potentially embarrassing photo, and rallying cry.
On Sunday French magazine Public reported that Le Pen is claiming €50,000 (£37,000) in damages from Zaibat, and demanding a public apology, claiming that the photo "harmed his image and was instrumental in the defeat of the party". Another French publication, Rue 89, has confirmed that Jean-Marie Le Pen is suing Zaibat for breach of privacy.
If you find it unlikely that a picture of a sleeping politician could change the course of a major election, you aren't alone. The more conventional analysis is that, despite winning a significant share of the vote, rival parties worked together and stood down some of their candidates to block the National Front winning in any single region.
Not only that, Jean-Marie ceded power to his daughter Marine almost five years ago now. Since then she has attempted to renew the party's image. And in August the National Front even expelled Jean-Marie Le Pen in an effort to shed its extremist reputation.
French media is reporting that the first hearing of Le Pen's complaint is set to take place on 22 January. Zaibat has yet to comment publicly on the damages claim.
Blog by Sam Judah
Next story: The 'Rosa Parks' of Saudi Arabia
A black female pilot is challenging conventional attitudes in Saudi Arabia, despite a barrage of abuse. READ MORE
You can follow BBC Trending on Twitter @BBCtrending, and find us on Facebook. All our stories are at bbc.com/trending.