Mayor unrepentant over 'unforgivable' Three Kings parade changes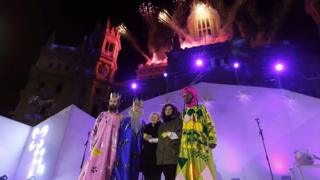 A change of costumes and other attempts to a modernise a parade for a Spanish Christmas festival has angered many in Madrid, and spawned demands on social media for a return to tradition.
A hashtag which translates as "I will never forgive Carmena" has been trending worldwide on Twitter. But what was this apparently unforgivable act. And more importantly, who is Carmena?
The act itself was a series of costume changes at this year's Three Kings parade in Madrid. The parade is a huge deal in Spain, held every 5 January to commemorate the kings' visit to the newborn baby Jesus. The changes were so radical that some said the parade was unrecognisable.
And Carmena? That's Manuela Carmena, the left wing mayor of Madrid. She's the person many say is responsible for the change.
Opposition to the new style was voiced by a former MP for the conservative Popular Party, Cayetana Álvarez de Toledo, who tweeted this from the parade: "My 6 year old daughter said 'Mum, Gaspar's costume is not real.' I will never forgive Carmena, never." Gaspar is one of the three kings, and Alvarez´s daughter probably couldn't recognise the costumes because they were so different from last year's.
Different costumes, the inclusion of a more multicultural theme and even "galactic" music were some of the changes that enraged traditionalists.
---
Follow BBC Trending on Facebook
Join the conversation on this and other stories here.
---
The organisers also eliminated the use of animals and, for the first time ever, included a black man as opposed to a white man in makeup, to portray Balthazar.
"We wanted to go for an aesthetic change but always keeping the kids in mind" said Lucila Rodriguez, head of communication for the city council in Madrid.
For some, the changes went too far.
Talking with the Spanish news site El Español, Alvarez de Toledo said "nothing about the parade was realistic". The organisers, she argued, didn´t have "the ability to maintain tradition and respect it".
There was a huge reaction to Alvarez's tweet, and the hashtag has now appeared more than 55,000 times. Opinion was sharply divided, but some took the opportunity to use the hashtag to joke that the whole thing had been blown out of proportion. "My cookie fell into my milk when I was eating it. I will never forgive Carmena," wrote one. "'Mum, Darth Vader´s costume is not real'. I will never forgive Manuela Carmena, never," said another.
And the major herself replied: "The kings have brought me the opportunity of to work for a more just and diverse Madrid. I would never forgive myself from doing the opposite".
This year's celebrations were also controversial because the city council allowed queens to accompany the three kings in a series of smaller parades in the different districts of Madrid.
Blog by Alvaro A. Ricciardelli
Next story: Cologne Mayor's 'code of conduct' to prevent sexual assault angers many
The city's female mayor has been widely criticised for suggesting women should keep 'an arms length' away from strangers. READ MORE
You can follow BBC Trending on Twitter @BBCtrending, and find us on Facebook. All our stories are at bbc.com/trending.