What's David Cameron watching on the telly, exactly?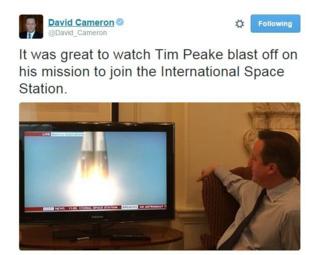 The British Prime Minister David Cameron tweeted a photo of himself watching the launch of the Soyuz rocket to space. Enter political opponents and journalists, who saw a chance to wield Photoshop and create the latest political meme.
One of the first tweets came from Buzzfeed reporter Jamie Ross, showing Cameron tuning into the wrong channel and watching the BBC programme Bargain Hunt. BBC Trending asked Ross why he created the image. "I was just taking part in the honourable tradition of making fun of David Cameron when he posts Photoshoppable images on Twitter," he said.
Soon, questionable humour was being deployed by political opponents. Fundraiser and Liberal Democrat supporter, Cal Roscow showed a cartoon image of Peppa Pig characters - a sly reference to a story contained in former Conservative Party treasurer Lord Ashcroft's unauthorised biography of the prime minister.
Roscow denies that he's joining in the base humour online for political reasons, saying "I think this is a bit more subtle." He added: "I suspect his social media team knew how good the photo was for editing, so perhaps I've been drawn into doing exactly what they intended."
A Labour party member, Hamish, shows the prime minister about to watch The Jeremy Kyle Show.
Huffington Post staffer Ryan Barrell's image shows Cameron viewing a warning to pay the TV Licence fee.
Blog by Andree Massiah
Next story: Serena Williams is Sportsperson of the Year. Not everyone agrees
The choice to give Serena Williams the Sports Illustrated magazine Sportsperson of the Year award has prompted both celebration and contention, with some arguing that the prize had a more deserving victor: racehorse American Pharaoh.READ MORE
You can follow BBC Trending on Twitter @BBCtrending, and find us on Facebook. All our stories are at bbc.com/trending.