What's the truth about the story of singing Canadian children and Syrian refugees?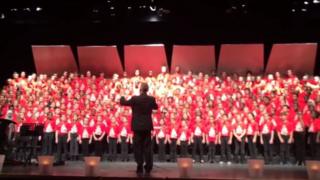 It was the heart-warming story behind a video that went viral: Canadian schoolchildren were singing an ancient Islamic song in order to welcome Syrian refugees to their country. There's only one problem: the story isn't entirely true.
The video shows a choir of young Canadian children singing an ancient Arab song that is said to have been sung in welcome of the Prophet Muhammad when he arrived in Medina.
It was initially shared on Facebook but got a flurry of media attention after it was posted on YouTube on Friday, with the caption "Welcome To Canada Syrian Refugees". The video has racked up more than 830,000 views in just three days.
Several news organisations reporting on the video picked up on the YouTube line that it was a song of welcome for Syrians. But as it turns out, the video was actually taken a week before the first group of Syrian refugees arrived on 11 December in Toronto.
The video was originally posted on Facebook on 3 December by a Arab-Canadian mother, Dima Kilani. Her 10-year-old daughter was one of those singing in the school choir in Ottawa.
"The idea behind this was to bring people from different background together and to promote Canada's culture of inclusion," Kilani told BBC Trending. "This might not be about refugees but it carried a similar sentiment which filled us with happiness and optimism."
The choir's director told Buzzfeed that he'd been looking for years to include an Islamic song in the school choir's performance. "It had nothing to do, for us, with the Syrian refugee crisis or anything else going on in the world right now," said Robert Filion - although a school board spokesperson initially told the news site that the song was performed as a welcome to refugees.
The confusion might have been compounded by the fact that, on the same day the video was uploaded on YouTube, Prime Minister Justin Trudeau personally greeted a group of the first Syrian refugees and said his country was "showing the world how to open our hearts."
Kilani says it's not surprising that people thought the video was for refugees, considering Canada's record of welcoming people from different backgrounds. "I can't recall a Christmas choir celebration where it was just Christian songs," she says. "They always try to include songs from different cultures and religions."
Trudeau's newly-elected government has pledged to take in 25,000 refugees by the end of February.
Reporting by Mamdouh Akbiek
Blog by Mai Noman and Mike Wendling
Next story: 'Zuma Must Still Fall': South Africa reacts to economic troubles
Faced with an economic crisis that has led Jacob Zuma to sack two finance ministers in less than a week, South Africans are responding online with heavy criticism of the president. READ MORE
You can follow BBC Trending on Twitter @BBCtrending, and find us on Facebook. All our stories are at bbc.com/trending.