'Zuma Must Still Fall': South Africa reacts to economic troubles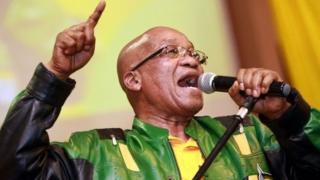 Faced with an economic crisis that has led Jacob Zuma to sack two finance ministers in less than a week, South Africans are responding online with heavy criticism of the president.
#ZumaMustFall began trending last week after Nhalnhla Nene lost his job. Since then, more than 150,000 tweets have used the hashtag. One of the earliest tweets came from @EllaPieters, an attorney from Cape Town.
The hashtag reached its peak when the latest finance minister, Pravin Gordhan, was drafted in.
The leader of the Democratic Alliance, the main opposition party, tweeted a plea to Gordhan which was shared more than 600 times:
Gordhan's appointment calmed the markets somewhat - he was widely respected when he served as South Africa's finance minister from 2009 until 2014. But some critics continued their online attacks - the hashtag #ZumaMustStillFall has been used more than 20,000 times. The Democratic Alliance used it to issue a motion of no confidence in the president:
Gordhan's predecessor, David van Rooyen, lasted only four days in the job - and many South Africans joked about his short stint with the tag "Van Rooyen Didn't Even":
So what did Zuma say to van Rooyen in this photo? Cape Town journalist @lesterkk's caption was retweeted nearly 2,000 times, joking that the finance minister's role was only going to be a brief one:
Blog by Andree Massiah
Next story: Facebook group seeks justice for a man tortured to death by police
In Luxor - the ancient Egyptian city that draws thousands of tourists each year - a Facebook campaign has prompted the arrest of nine police officers accused of torturing a man to death.READ MORE
You can follow BBC Trending on Twitter @BBCtrending, and find us on Facebook. All our stories are at bbc.com/trending.