Rape allegation puts spotlight on anonymous campus app Yeti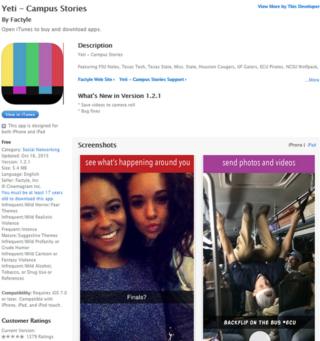 The murky case of an alleged rape has put an anonymous video messaging app popular on university campuses in the spotlight.
Yeti Campus Stories is a service similar to other apps like Snapchat or Yik Yak. But given its anonymity and youthful target market, it's also earned something of a hedonistic reputation. A quick cycle through its content brings up a number of photos of drugs, videos of partying and posts about drinking and sex.
But the video at the heart of this story is much more extreme - and is causing some to question the app's impact on college campuses. The video reportedly shows a young woman naked from the waist down who seemed either unconscious or unresponsive. A man facing away from the camera appears to be sexually assaulting the woman, while a third person is filming the encounter and shouting from behind the camera.
The video was uploaded onto the app and approved by app administrators - but since the story broke, it has been taken down (and BBC Trending has only seen grainy screenshots of the footage).
Yeti is divided into a number of campus-based networks - the sexual assault video appeared on one devoted to Florida A&M University. Local police were alerted, and although the app is anonymous, Yeti provided metadata about when and where the video was uploaded, along with other information that allowed authorities to find the person who shot it.
Ben Kaplan, Yeti's director of communications, says the company acted swiftly once it noticed that the video was the subject of a lot of chatter on the app.
"If something makes it on to the network and it's brought to our attention, we can be proactive in the rare instance like this Florida A&M University case."
The person who shot the video has been questioned by police, and a victim of the alleged assault has been found, but no arrests have been made.
---
Follow BBC Trending on Facebook
Join the conversation on this and other stories here.
---
To control what goes onto the app, Yeti enlists the help of a group of heavy users called Campus Yetis, who act like moderators. They're not employed by Yeti or paid by the company - in fact, Yeti don't even know their names because like users, they are also anonymous. But they voluntarily take on the task of approving or disapproving videos and images according to the app's guidelines.
One moderator told BBC Trending that he regularly sees - and votes down - posts about drugs and sex.
"If I see people doing drugs, I don't post them, because that's just something I don't want people bragging about. We know students do drugs, there's no point posting those things online," Jamal Hafiz told BBC Trending.
Hafiz, a firefighter in Gainesville, Florida, is a moderator on the University of Florida network (which is separate from Florida A&M). But he's not a student at the school and, at the age of 25, he's older than many of the students using the app.
"I've also voted down porn. People having sex and things like that - I've denied all that too," he says.
Hafiz says police in his town keep an eye on the app to look out for criminal activity, and that despite the moderators, illegal activity does slip through.
"If you click on Snapchat, you'll see it's the complete opposite to what Yeti is. You see people eating lunch, or doing something fun. You won't see drugs or nudity on Snapchat. It's completely day and night compared to Yeti."
---
BBC Trending Radio
Hear more on this story - and more from the Trending team - on our podcast from the BBC World Service.
---
Kaplan says the content on the app simply reflects what college students are interested in, what they talk about, and argues that the company's policies protect users.
"Thanks to apps like Yeti... incidents like this potential rape case in Florida are brought to the public eye and communities are safer as a result," he says. "Had this video not surfaced on Yeti, it's unlikely it would have received the attention it deserves."
He confirmed that moderators had approved the posting of the video of the alleged rape, but said those involved had subsequently been stripped of their admin rights. Local police in Tallahassee, the city which is home to Florida A&M, say their investigation is continuing.
Blog by Emma Wilson
Next story: The lonely life of an 'Instagram husband'
A tongue-in-cheek video is highlighting the plight of "Instagram husbands" - those poor partners who are stuck miserably photographing the exploits of their loved ones.READ MORE
You can follow BBC Trending on Twitter @BBCtrending, and find us on Facebook. All our stories are at bbc.com/trending.