A wounded soldier's response to people who expect him to hate Muslims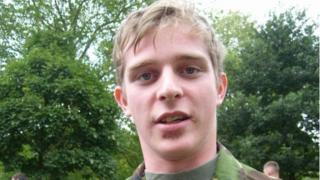 "Yes. A Muslim man blew me up, and I lost my leg."
That's how Chris Herbert began his "angry rant" on Facebook. Herbert, a former soldier from Portsmouth who served in Iraq with the Yorkshire Regiment, lost his leg in a roadside bombing in Basra. But far from spouting hatred of Islam, Herbert's post goes on to praise the Muslims who served next to him in Iraq and helped him recover from his injuries.
"A Muslim man also lost his arm that day wearing a British uniform," it continues. "A Muslim medic was in the helicopter that took me from the field. A Muslim surgeon performed the surgery that saved my life. A Muslim nurse was part of the team that helped me when I returned to the UK."
---
Follow BBC Trending on Facebook
Join the conversation on this and other stories here.
---
Herbert said he wrote the post after an "Islamophobic group tried to recruit me as a poster boy" and he goes on to describe several incidents where "white Brits" were rude and abusive to him, using occasionally colourful language. "Although, a lot of people helped in my recovery! I don't hate white brits either! hahaha," he says in the post.
"I know who I dislike, and I know who I don't," he says. "I know who I appreciate, and I know who I don't. If you want to hate an entire race of men and women for the actions of a few... feel free, but don't push your views on me, thinking I am an easy target."
"Blaming all Muslims for the actions of groups like Daesh [so-called Islamic State] and the Taliban, is like blaming all Christians for the actions of the KKK or Westboro Baptist Church." The post concludes: "Get a grip of your lives, hug your family and get back to work."
Herbert's post has been widely praised. "One of the best things I've ever read on Facebook," said one comment. "A shame others can't see things how you do," said another. The post has been shared nearly 80,000 times and was also shared extensively on Twitter, including by MP for Plymouth and former soldier Johnny Mercer, who told BBC Trending that Chris's comments "reflect the views of many many soldiers."
Herbert has yet to give media interviews about his viral rant, but in the comments section of his Facebook page he's said "it went a bit mad" following the post. Otherwise, he says, life goes on as normal: "Woke up, walked the dogs, and put on game film, I have a game on Sunday and they don't care if I went viral!"
Blog by Ed Prendeville
Next story: 'The signatories believe Donald J Trump should be banned from UK entry'
Donald Trump's claim that parts of London are "so radicalised the police are afraid for their lives" was roundly condemned by British politicians of all sorts.READ MORE
You can follow BBC Trending on Twitter @BBCtrending, and find us on Facebook. All our stories are at bbc.com/trending.