Defying the online censors with jokes about Chinese smog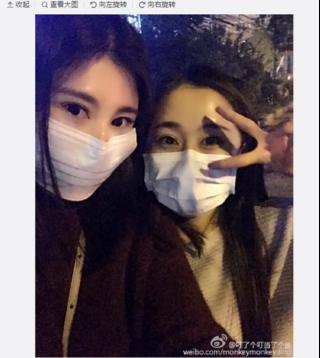 As Beijing, blanketed with dense smog, has taken on an eerie appearance, social media users are sharing photos and jokes - but not all of them have made it past Chinese censors.
Air pollution is nothing new in China, but this week the country raised its alert level to red for the first time since it started using a colour-coded warning system two years ago. Schools are closed, driving restrictions are in place and outdoor construction has been halted. And the poor air quality has also created a dense cloud of reaction on China's Twitter-like Sina Weibo network.
"We Chinese are slowly learning about the danger of the fog and slowly our anger is turning into ridicule... nobody is saying the government will fix this, no-one has stood up and offered a solution," reads one message. Another says: "Living in Beijing, I sometimes feel really desperate. It looks as though sunny days will not return. I've forgotten why I came here. How will our future children cope?"
Thousands of Weibo users tagged their messages with "Air Pollution Red Warning" and "The Haze Is Back Again Again Again Again". The comments express sarcasm and humour, but also genuine concern. Some users posted before-and-after photos of landmark buildings and monuments:
Others have enhanced greyed-out skylines by drawing in the buildings that are shrouded in pollution:
---
Follow BBC Trending on Facebook
Join the conversation on this and other stories here.
---
Others have gone one step further - this user inserted a monster into a photo of an already-gloomy skyline:
China's air pollution is often a big talking point on social media, but it's also one that irritates the authorities and falls foul of the country's internet censors. Several messages about the current smog were taken off of Sina Weibo, according to a search on Free Weibo, a website that captures censored and deleted posts.
Earlier this year a former journalist from the state broadcaster CCTV made a documentary about China's air pollution. The film, Under the Dome, was viewed 100 million times in less than 48 hours. It was later taken off of websites inside the country, even though it is available outside China on YouTube. And last year, Chinese authorities asked websites to stop reporting air quality data provided by the US embassy during a regional summit.
Blog by Nooshin Soluch
Reporting by Kerry Allen, BBC Monitoring
Next story: The controversy over a yoga guru's noodle brand
A popular guru-turned-noodlemaker who is a prominent supporter of Indian Prime Minister Narendra Modi has now found himself target of jokes online after a customer allegedly found worms in a packet of his company's noodles. READ MORE
You can follow BBC Trending on Twitter @BBCtrending, and find us on Facebook. All our stories are at bbc.com/trending.