The controversy over a yoga guru's noodle brand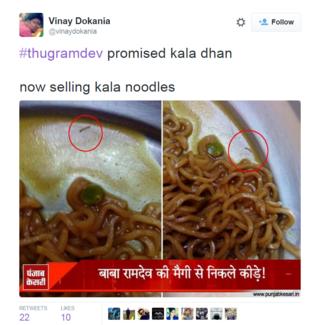 A popular guru-turned-noodlemaker who is a prominent supporter of Indian Prime Minister Narendra Modi has now found himself target of jokes online after a customer allegedly found worms in a packet of his company's noodles.
The customer says he bought the noodles from an authorised shop that sells products made by the Patanjali Ayurved company. But after he cooked the packet, the customer claims, he spotted worms in his food.
He complained to the shop, photos were taken, and the incident quickly became a news story in India, due in no small part to the firm's famous founder. The noodle brand was recently launched by Baba Ramdev, a yoga guru who's active in politics as well as food manufacturing.
The guru's official Twitter account has strongly denied the allegations, saying that "showing a worm in some random plate of cooked noodles, and aligning the news to Patanjali brand is highly illogical."
"Our products are made with the utmost integrity, using best of the herbal and healthy ingredients and with global food processing standards," the guru tweeted.
However, that didn't stop thousands from commenting on the incident online. Many of those opposed to Ramdev and his support for the ruling BJP used the hashtag "Thug Ramdev" to bash the guru and his enterprise with a touch of humour and sarcasm. One user said : "Saint by looks, businessman by profession, politics is his religion #ThugRamdev". Others picked up this theme, contrasting the idea of a spiritual yoga master with that of a business empire:
But the guru also found a groundswell of support online, with thousands tweeting "Proud of Ramdev". "He adopted flood victims of Nepal. Do you remember?" commented one tweeter. Another expressed appreciation for his yogic efforts saying he was grateful to the guru "for the spread of Yoga and making known to the world the rich heritage of India".
---
Follow BBC Trending on Facebook
Join the conversation on this and other stories here.
---
Ramdev launched Patanjali noodles in mid-November, promoting the brand as a healthy alternative to similar food products. But it soon ran into trouble after India's food watchdog said Patanjali Noodles did not have the necessary government approval. The firm insisted it did have the correct licence.
The launch came after Nestle's popular Maggi brand of noodles was banned in India over food safety issues.
Blog by Nooshin Soluch
Next story: Hack a hairdryer: Campaign aimed at women suddenly backfires
After running for a couple of months more or less unnoticed online, IBM's "hack a hairdryer" campaign suddenly attracted a barrage of criticism by Twitter users who called it patronising and sexist - and the company has now apologised. READ MORE
You can follow BBC Trending on Twitter @BBCtrending, and find us on Facebook. All our stories are at bbc.com/trending.