Why a controversial temple site in India is trending again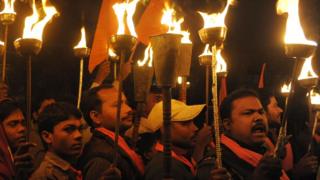 The northern Indian town of Ayodhya has been a flashpoint between Hindus and Muslims in India for years.
Hindu parties want to rebuild a historic temple, or mandir, to Lord Ram who they believe was born there, and achieving this was one of the promises made by Prime Minister Narendra Modi during his election campaign. But the demolition of a mosque on the site by Hindus in 1992 triggered some of the worst religious riots in recent Indian history - more than 2,000 were killed across the country.
And so it's significant that this week Twitter has been flooded with messages saying "India wants Ram Mandir."
The online campaign started on Sunday after the right-wing group Vishwa Hindu Parishad (VHP) renewed its call for construction of a temple on the disputed land.
---
Timeline: Ayodhya holy site crisis
---
The VHP created the hashtag "India wants Ram Mandir" to highlight the issue a week before the anniversary of the demolition. It became a top trend in India and more than 50,000 messages were posted including the tag.
Many tweeted in support of the building a new temple, adding that Hindus should "protect" their religion:
But there's a twist - many of those using the tag were actually opponents of the campaign. Several used the hashtag to mock "bhakts", a derogatory term many use to describe right-wingers on Twitter, and to criticise Modi.
---
Follow BBC Trending on Facebook
Join the conversation on this and other stories here.
---
The story of the dispute over the land is complicated, but here's the latest: in March 2015, an Indian court awarded two-thirds of the disputed land to the Hindu plaintiffs and one-third to a Muslim organisation that has staked claim to the land. The matter first went into litigation over 60 years ago, long before the demolition of the mosque. The case is now to be heard in India's Supreme Court, but it may take a decade to assess the land records, meaning a legal resolution is unlikely anytime soon.
The anniversary of the demolition of the Babri Masjid mosque is always a sensitive time for India and security is beefed up across the country to avoid religious riots. The disputed site is heavily guarded by security personnel at all times.
Blog by Aditi Mallya
Next story: What happened when one man compared Saudi Arabia to Islamic State
A death sentence handed to a poet (pictured above) led to thousands tweeting the challenging message "Sue Me Saudi" to compare the human rights situation in Saudi Arabia to that under Islamic State.READ MORE
You can follow BBC Trending on Twitter @BBCtrending, and find us on Facebook. All our stories are at bbc.com/trending.