'Kylie Jenner, wow, being in a wheelchair is so fun and fashionable!'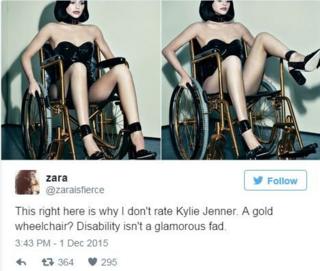 Reality TV star Kylie Jenner has angered some disabled people, by posing in a gold wheelchair for a fashion shoot.
The image was one of several showing the able-bodied television personality - famous for the series Keeping up with the Kardashians - in various poses for US magazine Interview. But when the pictures were published on Tuesday, and shared on Facebook, many wheelchair users expressed outrage - and used the picture as a way to share their experience of using a wheelchair.
There have been thousands of messages across social networks. The most intense reaction to the image came from people who reported being discriminated against because of their disability.
---
Follow BBC Trending on Facebook
Join the conversation on this and other stories here.
---
Others began posting pictures of models who genuinely need a wheelchair, to point out the wheelchair is often much more than a prop.
One of the most shared images on social media was from 17-year-old Ophelia Brown. "I wanted to show her that being in a wheelchair is not glamorous or fashionable or fun," she told BBC Trending. Her picture, showing her in her chair next to the the image of Jenner, was widely retweeted.
Ophelia, who uses a wheelchair to deal with complex regional pain syndrome, spoke from her home in Ottawa, Canada. "When I first saw the picture, my response was that I didn't think she fully understood what a wheelchair was. A wheelchair is a big part of my life and she seemed to be sitting on it for fun or to look more edgy and cool."
"I felt overwhelmed with annoyance and jealously that she could just get in and out of a wheelchair," she says
Her remark was retweeted thousands of times, but there was a negative backlash too - Ophelia says she was also subjected to so much abuse on Twitter that she even made her profile private for a short while. "One of the worst was someone saying that I was just jealous, and why didn't I just roll myself into a wall," she says.
But she doesn't regret making her comment. "The positive overpowered the negative stuff," she says. "Spreading the message is more important."
Blog by Diana Rusk
Next story: People are outing themselves as 'terrorist sympathisers' to make a political point
As the UK Parliament debates the merits of British airstrikes against so-called Islamic State in Syria, Twitter users seized on a comment made by Prime Minister David Cameron. READ MORE
You can follow BBC Trending on Twitter @BBCtrending, and find us on Facebook. All our stories are at bbc.com/trending.