Porn star loses column over rape accusation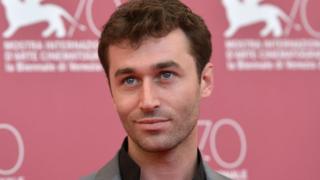 After an adult film star was accused of rape, the editor of an online magazine dedicated to pop culture and relationships has pulled his sex column.
Over the weekend, adult film star Stoya tweeted accusations that her former partner, the adult film star James Deen, had sexually assaulted her.
Since then, another adult film star made a similar accusation in the Daily Beast.
Deen has publicly denied these accusations, writing on his own Twitter account "these allegations are both false and defamatory."
It's a familiar pattern in cases of alleged sexual assault: woman makes accusation, man denies it. But the claims were enough for Amelia McDonnell-Parrey, editor-in-chief of online magazine The Frisky, to discontinue her working relationship with Deen, who contributed to a sex column on the site.
"We won't be publishing [Deen's column] going forward," wrote Mcdonnell-Parrey in a post explaining the decision.
"This makes it impossible for me to work with him any further, to give him a forum for giving advice that he is accused of not following himself."
McDonnell-Parrey told the BBC that she decided to terminate any future columns "almost immediately after seeing Stoya's post" and that the site focuses on "believing women."
"I knew our relationship with him had to end simply due to the fact that if someone is accused of rape, regardless of the truth, they are no longer the right person to be giving sex advice," said McDonnell-Parrey, who has written about her own rape on the site.
"When women speak out, they are often met with an unbelievable amount of abuse, harassment and hate. There is absolutely nothing wonderful about coming out to the world and telling people you've been raped," she said.
"At the end of the day, I have a choice. I believe him, and run the risk of being wrong, or I believe her and run the risk of being wrong. I would far rather believe her and I will stand by that decision."
Others argued that as Deen has not been proven guilty, the decision was unfair.
One user commented on The Frisky's post: "As someone who has been sexually assaulted and understands what it's like to be a rape victim, I also find it dangerous to make assessments off the bat without knowing a thing about what really happened."
But many online praised the choice, noting the different standards for a court of law versus a place of business.
"We usually can't know to a moral certainty whether an allegation of rape is true. So why not just remain agnostic? That essay explains why," wrote activist Angus Johnston on Twitter, referring to McDonnell-Parrey's blog post. "Innocent until proven guilty is the appropriate standard for a court of law, but other contexts call for other approaches."
Neither Stoya nor Deen responded to the BBC's request for comment.
Next story: Celebrating St Andrew's Day - with the Romanian flag
Scottish Facebook users responded with a mix of bafflement and outrage when the social network apparently suggested people celebrate St Andrew's Day - with the flag of Romania.READ MORE
You can follow BBC Trending on Twitter @BBCtrending, and find us on Facebook. All our stories are at bbc.com/trending.