Reactions to the debate about Taiwan's 'hidden racism'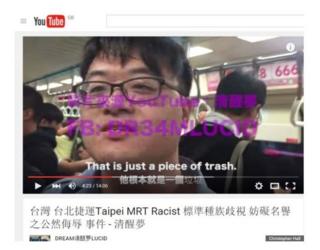 It was the viral video that kicked off a debate about racism in Taiwan - and a BBC Trending story prompted a big reaction from people throughout Asia and around the world.
It began when a white British man, Christopher Raymond Hall, found himself on the receiving end of a verbal assault while taking the subway in Taipei with his girlfriend. A Taiwanese man called him "ugly" and said he was a "loser" who came to Taiwan because he couldn't find a girlfriend back home.
Hall posted footage of the incident to YouTube and after BBC Trending covered the story, many readers wrote to reporter Cindy Sui to share their personal experiences with racism.
A Korean man living in Manila wrote: "Thanks for the story… I thought I was the only one."
Several readers picked up on the issues raised when another expat told Trending that Taiwanese are uncomfortable speaking to foreigners, even when the newcomers are fluent in the local dialect.
A woman named Rama wrote: "I have spent a lot of time in Japan, and have often been left in no doubt about someone's dislike towards me for being a foreigner, or gaijin. My Japanese is not bad, but I have often had people point blank refusing to communicate with me." She added: "Don't even get me started on mainland China!"
The Korean living in Manila commented: "I speak Tagalog without an accent because I was born in the Philippines. When some Filipinos learn I speak Tagalog, the reaction is first surprise then later a kind of nervousness, as if they feel they have lost the only advantage they had."
An expatriate man who has lived in Bangkok for 15 years wrote: "You can never become accepted even if you have good spoken Thai and knowledge of customs. I, and many of my long-term colleagues, share the same opinion that you can never ever have a true friendship (in the Western sense) although they will fawn and smile all over you if it's of advantage to them. We called it the Land of Lies (not smiles)."
---
Follow BBC Trending on Facebook
Join the conversation on this and other stories here.
---
But some readers got in touch to say that they believed white expatriates on the whole have more privileges while living abroad. They say racism against Asians in places like the UK and US can be far worse and more frequent than what white expats experience. That was the view of Nivek, a Taiwanese man living in the US. He noted that in comments underneath the original video, Taiwanese people apologised to Hall.
"That is a white privilege phenomenon because a person of colour is often responsible to speak for their entire race while a white person is an individual, and has that mindset," Nivek said. "In modern society, no matter what country you go to, 'whiteness' is the norm, the standard, and is desired… Similar racist taunts have been done to Asian-Americans in the US and nothing happens."
And whether a society embraces foreigners can affect how well it does economically, according to one expat living in Taiwan.
"This is the first article I have come across that broaches the subject of racism in Taiwan towards the foreign community. Would we even use a term like 'foreign community' in the UK, US or Canada?" he asks. "There are individuals like myself who are married, have family and have stable and respected employment… However, there is no opportunity to assimilate."
The man went on to argue that lack of assimilation has hampered the Taiwanese economy.
"In a day when Taiwan craves the support of the foreign international community, why would you put down this same community? I would embrace it in hope of seeing new businesses coming to town and creating jobs."
Blog by Cindy Sui
Next story: Spray for Paris: Street art with a message of hope
In the aftermath of the Paris attacks, street artists have been paying tribute to the city's spirit...READ MORE
You can follow BBC Trending on Twitter @BBCtrending, and find us on Facebook. All our stories are at bbc.com/trending.