A brief history of online trolling between Western and Russian diplomats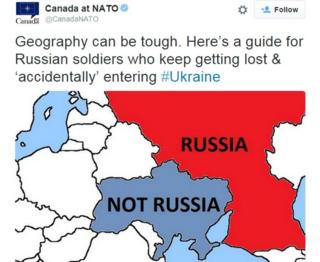 As tensions persist between Russia and the West, governments have resorted to posting sarcastic digs at each other on social media - with the US Embassy in Russia making a particularly bold jibe this week.
On Wednesday, the US embassy in Russia offered proofreading services to a leading pro-Kremlin daily newspaper - but it was more of a provocation than a genuine volunteering of help. "Dear Izvestia, next time you use a fake letter, feel free to forward it to us. We'll be happy to help you correct any mistakes," the Facebook post read. "Yours Sincerely, Department of State".
The paper had used an apparently fake letter as evidence to suggest that Washington paid gay rights activists to destabilise Russia.
In fact this is not the first such post from the US embassy. In September, they used Photoshop to mimic what they said was a doctored image supposedly showing Ambassador John Tefft at an opposition rally in Moscow:
The approach has been used by other Western governments in their dealings with Russia, too. Some took to social media to pour sarcasm onto Moscow's assertions that it is not helping separatist rebels in eastern Ukraine.
---
Follow BBC Trending on Facebook
Join the conversation on this and other stories here.
---
For example, in August last year Canada's mission to NATO offered a sarcastic lesson in geography after Russia claimed that its troops were captured in Ukraine only because they had strayed there by mistake. And the British embassy in Kiev posted a pictorial guide to Russian tanks which it said had been spotted Ukraine:
But Russian officials are equally talented in the art of online trolling and sarcasm. For example, the country's mission to the UAE on 3 September 2014 used a picture of some toys to ridicule allegations of Russia's military involvement in Ukraine:
Less than a week later, the Russian Foreign Ministry used this photo of US Secretary of State John Kerry and his predecessors wielding spades to suggest that they may be "restoring Cold War trenches." In fact, the picture shows a groundbreaking ceremony at the construction site of a new foreign policy centre in Washington.
So how come trolling has entered the diplomatic playbook? Will Stevens, a spokesperson for the US embassy in Moscow, says the new approach has been dictated by the peculiar nature of the medium. "The language of social media is humour, and sometimes it works really well to get your message across," he tells BBC Trending. "Also, a picture is worth a thousand words," he adds.
Not everyone thinks it makes diplomatic sense to use social media like this. Michael Taylor, a long-time Russia watcher at Oxford Analytica, a think-tank, has reservations. "I don't think this should be how you conduct foreign policy," he tells the BBC. "It all seems rather childish and silly."
Blog by Vitaly Shevchenko
Next story: Why are Iranians posting their ID card photos online?
An Instagram page has been asking Iranians to post photos of their national ID cards along with other, more typical self-portraits - and many are taking the challenge. READ MORE
You can follow BBC Trending on Twitter @BBCtrending, and find us on Facebook. All our stories are at bbc.com/trending.