Russians demand revenge after Sinai plane bombing is confirmed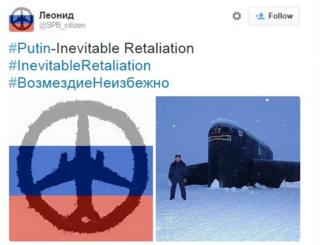 Russians have taken to social media to demand retribution after an investigation determined that the crash of a Metrojet A321 airliner in Egypt last month was caused by a bomb. But at the same time some pointed the finger at President Vladimir Putin, arguing that the military campaign in Syria has made Russia a target.
An hour after news broke that traces of explosives were found in the wreckage of the crash that killed 224 people, the hashtag "Retribution is inevitable" was trending on Twitter in Russia, with many tweeting photos of Putin and examples of what Russia could to do its enemies:
Many, such @SPB_Citizen (who posted the tweet at the top of this article) replaced their profile pictures with a collage showing an outline of an airliner against the background of a Russian flag - an image reminiscent of the Eiffel Tower "peace" icon making the rounds following the Paris attacks.
The Russian plane icon was first shared on Facebook by Maria Zakharova, a spokeswoman for the Russian Foreign Ministry, shortly after the announcement about the investigation. She said she had received the picture from someone in Italy, accompanied by one word: "Solidarity".
One tweet used the hashtag to demand that the hunt for perpetrators continue "day and night" to avenge those killed in the crash. Another user turned her Twitter page into a tribute to the victims and suggested that 17 November be declared a day of national mourning:
On Russia's most popular social network VK (also known as VKontakte), many backed President Vladimir Putin's vow "to find and punish" the perpetrators:
---
Follow BBC Trending on Facebook
Join the conversation on this and other stories here.
---
But others suggested that Putin was himself indirectly responsible for the tragedy, and claimed the Kremlin's bombing campaign in Syria has turned Russians into a target for militants.
"Human lives have been paid for the help given to Al-Assad and for Putin's scheming. These human lives cannot be brought back," tweeted Nikolay Polozov, a prominent opposition-minded lawyer.
Some Putin opponents ridiculed his assertion that there was "no obvious reason" for anyone to attack Russia:
It is this finger-pointing at the Kremlin that - in the eyes of many online commentators - made both officials and state media in Russia initially dismissive of the idea that a bomb took down the plane (initial reports were uncertain about the cause of the crash):
President Putin's popularity may be at an all-time high now, but a protracted battle with insurgents in Syria might seriously dent it, especially if there are high numbers of casualties. Russia is a country which still grapples with painful memories of a bloody and unsuccessful Soviet military campaign in Afghanistan in the 1980s.
Blog by Vitaly Shevchenko
Next story: The myth of Zouheir, a "hero Muslim security guard" in Paris
A compelling story about a heroic Muslim security guard stopping a suicide bomber from entering the Stade de France on Friday, saving perhaps hundreds of lives, is making the rounds on social media. But it's not true. READ MORE
You can follow BBC Trending on Twitter @BBCtrending, and find us on Facebook. All our stories are at bbc.com/trending.