The man who refused to vote for his mother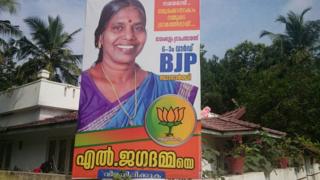 If you're running for public office, you can surely count on your family to vote for you.
But unfortunately for one woman hoping to gain a seat on her local council, her son chose to support the opposition - and he explained his reasons why in a Facebook post that has been shared thousands of times.
Rajesh Kumar, a police constable in the southern Indian state of Kerala, wrote that he would not let his love for his mother "stop my duty towards the nation."
His mother, Jagadamma, was a candidate for the ruling Hindu nationalist BJP party. And her son's support could have been vital - she lost by only six votes in Saturday's election.
Rajesh Kumar wrote: "My mother was a teacher in my school, but when she forgot the national pledge she taught me, I decided to post this to remind people like my mother about that pledge."
He went on to criticise the BJP's follow-through on its policies, such as Prime Minister Narendra Modi's campaign to eliminate public defecation. This has been a major talking point in India after a study last year found that 70% of villagers defecate in the open. Rajesh Kumar wrote that the party's strategy wasn't working in some parts of the country.
Mr Kumar told BBC Trending that his relationship with his mother has been unaffected by the vote. "She's one of the strongest people I know and we have a very close relationship. My mother said that I have every right to choose my own political stance."
The Facebook post, written in the local language Malayalam, sparked a huge discussion and an outpouring of support for Rajesh Kumar's position. More than 1,500 people commented.
"New generation loud and clear," said one. "Proud of you bro." Dozens said things like "respect" and "I salute you."
But not everyone was backing Mr Kumar. "For your own political ambitions you (have) shown disrespect to your mother," said one detractor.
And who did Rajesh Kumar vote for, if not his mother? He says cast his ballot for the Left Democratic Front coalition, led by the Communist Party of India, the bloc that won Kerala's local elections.
Blog by Megha Mohan
Next story: Why do China's biggest brands celebrate being single every year?
Millions of people in China are celebrating being single on the social network Sina Weibo - because it's "Singles Day" on 11 November.READ MORE
You can follow BBC Trending on Twitter @BBCtrending, and find us on Facebook. All our stories are at bbc.com/trending.