Why are Egyptians suddenly remembering an 'iconic' protester?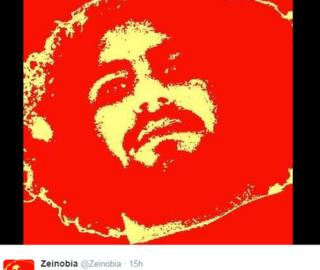 If the red and yellow image above looks more like pop art than an ordinary social media profile picture - well, that's because Alaa Abdel Fattah is a particularly iconic online activist.
He's a controversial figure in Egypt, dubbed "the detainee of all eras" because he has been arrested for protesting, or at least taken in and questioned, under every recent government. So it was surprising that when Fattah was sentenced to five years in prison earlier this year, the online reaction was muted. For some, the waning popularity of the hashtag "Free Alaa" was emblematic of the end of the road for the liberal activists of the Arab Spring, of which Alaa Abdel Fattah was an iconic part.
But in the past 24 hours, "Free Alaa" has surged once again. Starting Monday evening local time, it seems a coordinated group of people - led by the satirist Bassem Youssef, who some have dubbed "Egypt's John Stewart" - have used the slogan over 28,000 times, to mark a year since his most recent arrest. The slogan became a top trend on Twitter in Egypt and worldwide.
Here's his story in brief: Fattah is a blogger and software engineer who was well known even before the 2011 revolution for his bad language and public criticism of religious and military authorities. He was first detained under President Hosni Mubarak and again under the Muslim Brotherhood. He and his wife Manal (also a blogger) became a revolutionary "power couple" on social media.
His arrest last year - under current president Abdul Fattah al-Sisi - came after he was accused of organising a demonstration in front of the Shura council (Egypt's upper legislative house) against trials of civilians in secret military courts. Protesting without permission is a criminal offence in Egypt, and he was convicted and sentenced in February.
Other activists charged and sentenced for the protest outside the Shura council - some of whom, along with other leaders of the 2011 protests like Ahmed Maher are still in jail - are also being mentioned under the "Free Alaa" tag. And many supporters are changing their profile pictures to the yellow and red picture above.
So why is Fattah receiving a surge of support now?
"There has been a change since February," says Zeinobia, a well-known anonymous Egyptian blogger who is supporting the hashtag. She says young people now see that Fattah "wasn't the villain the media were trying to portray. Maybe they realise Alaa was right after all."
Last month, Egypt officially pardoned 100 prisoners, including two Al Jazeera journalists and Fattah's sister - though not Alaa Abdel Fattah himself.
But alongside the support, criticism of Alaa Abdel Fattah continues, both in the mainstream Egyptian media and online. Some Egyptians have created a pastiche of him, who they call "Smeda" - a dangerous hippy character who swears and doesn't realise the consequences of his revolutionary actions. The hashtag "Free Smeda" has had nearly 3,000 tweets since Tuesday morning, pushing it into the Twitter top trend charts in Egypt and elsewhere.
"It seems mocking and attacking Egypt is allowed but mocking revolutionary 'icons' is taboo," complained one user. "Free Alaa vs. Free Smeda is a fascinating case study waiting to be written," quipped another.
Blog by Mukul Devichand
Research by Alex Dackevych and Mai Noman
Next story: Egypt's 'Rain Man' makes small change from the floods
There have been deaths from recent flooding in Alexandria. But the story of a man who charges small sums to ferry people on his back across flooded streets has got Egyptians' attention online.WATCH HERE.
You can follow BBC Trending on Twitter @BBCtrending, and find us on Facebook. All our stories are at bbc.com/trending.