When racists tried to strike Star Wars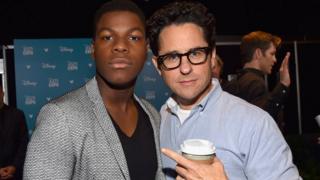 A trailer for the latest instalment of the Star Wars franchise was greeted with the usual mania online - but in the midst of all the gushing, thousands of Star Wars fans also found time to fight against racism.
The vertiginous trailer for Star Wars: The Force Awakens was released on Monday, and along with original stars such as Harrison Ford, the cast includes several newcomers. One of them, British actor John Boyega, who is black, caught the attention of racists online. A few dozen accounts started calling for a boycott using crude racial terms and throwing around allegations of "white genocide". Some abuse was also also targeted at director JJ Abrams, who is Jewish, with critics taking aim at him for for his comments on a podcast that a US TV awards ceremony was "unbelievably white."
On Tuesday, #BoycottStarWarsVII soon started trending around the world - but not for the reasons you might think. The handful of people calling for a boycott were soon drowned out by thousands condemning the posts. Some pointed out that wife of Star Wars creator George Lucas, businesswoman Mellody Hobson, is black:
Others have pointed out that black actors have played prominent roles in previous Star Wars films - perhaps most memorably, James Earl Jones as the voice of Darth Vader, and Billy Dee Williams as Lando Calrissian:
A few activists tried to get the hashtag #CelebrateStarWarsVII trending in response:
But while that hashtag only attracted a few thousand messages, #BoycottStarWarsVII has been used more than 110,000 times, with the most-retweeted messages against the idea. This picture of Boyega and Abrams on set was one of many circulating on Twitter:
Blog by Mike Wendling
Next story: A dying boy's plea that became an iconic message for peace
A video of a young Yemeni boy lying on a hospital bed being treated for injuries from flying shrapnel has had over 50,000 views on Facebook - and has become a moving symbol of the human cost of the war in his country.READ MORE
You can follow BBC Trending on Twitter @BBCtrending, and find us on Facebook. All our stories are at bbc.com/trending.