What's it like to be black in Japan?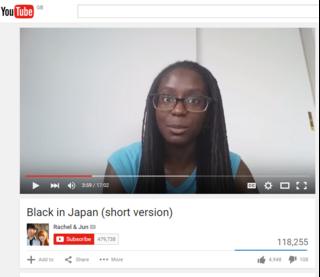 "Japan really loves black people."
That's one quote that sums up a viral video of black people talking frankly about their life in a country that is stereotypically depicted as being frosty to outsiders. The 80-minute documentary Black in Japan, along with a shorter version, have collectively been clicked on about 200,000 times on YouTube.
The video features eight black people, mostly African-Americans, who work at a variety of jobs in Japan, and have been in the country for varied lengths of time.
"I feel like Japanese people, they expect more of us, they're rooting for us," says one interviewee, a woman named Brittany. "Where I feel like in the (United) States, they have lower expectations." David, a musician, cites job opportunities: "Being a minority in Japan, I'm special. I get to do more things that I probably would have wanted to do in America, but the saturation of the particular minority (African-Americans) makes me invisible."
Several of the people featured in the film cited personal safety as a key consideration. Crime rates in Japan are very low compared to industrialised Western countries, and several said they felt insulated from racist violence and targeting by police.
"I feel more comfortable, I feel safer. I feel like nobody's going to shoot me because of my skin colour," says Ayana.
But impressions of Japan were not universally positive. Several of the interviewees said there was widespread ignorance about black culture, that Japanese people like to randomly touch their hair and skin, and that racist remarks were common, particularly by children.
"Catcalling gets really specific when you're black," said one interviewee. "I get called Beyonce, or Whitney Houston, who I look nothing like."
The documentary was made by Rachel, an American woman, and Jun, a Japanese man, a married couple who make videos about everyday life in Japan for their YouTube channel.
"It would be careless of me to say racism/xenophobia in Japan does not exist," one of the interviewees, Andre Cunningham, told BBC Trending via email. "You do get impolite stares, that is for sure, but most things that have happened to me were minor."
Cunningham, an English teacher from Jamaica, said he has heard Japanese people bad-mouth other nationalities but that he hasn't witnessed any specific incidents, and compared attitudes to other instances of international tensions.
"I think it is ingrained in the culture as even some of my students say they don't like Korea and China," he says. "It's really sad that people are being discriminated in 2015 because of nationality. This issue is rife throughout the world though."
Only about 1.5 percent of Japan's population is foreign born, and like in many Western countries, issues of immigration and race are controversial. Earlier this year, Ariana Miyamoto became the first mixed race woman to win the title of Miss Japan. And BBC Trending recently reported on a row over a cartoon drawing of a migrant girl which some deemed racist.
Blog by Mike Wendling
Additional reporting by Estelle Doyle
Next story: A black woman's racist rant on a London bus
Footage showing a woman's anti-Muslim tirade on a London bus has prompted a discussion about the fact that the abusive woman is black. READ MORE
You can follow BBC Trending on Twitter @BBCtrending, and find us on Facebook. All our stories are at bbc.com/trending.