Black woman's racist rant on a London bus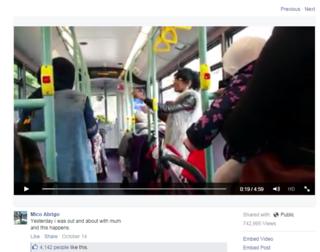 Footage showing a woman's anti-Muslim tirade on a London bus has prompted a discussion about the fact that the abusive woman is black.
The video was filmed on a bus in north-west London and uploaded to Facebook on Wednesday. It starts with a woman in the middle of a rant. She's shouting and swearing at a pregnant Muslim woman, and threatening to kick her in the stomach.
The abusive woman goes on to lob several insults, calling the other woman an Islamic State supporter, a suicide bomber and saying: "go back to your country." At one point the bus driver stops the bus and tries to calm the woman down - to no avail. When the bus starts up again the confrontation escalates. The video was viewed more than 750,000 times before it was taken down or blocked on Friday morning (it's unclear who took it down and why).
Of course, racist monologues directed towards other passengers on public transport and posted to social media are nothing new. But this particular incident stands out because those sharing and commenting have focussed on the fact that the perpetrator of the abuse is black. The woman, who has not been identified, has a London accent, and many comments about the video concentrate on her ethnic origin.
"I don't understand how second/third/generation immigrants can say things like 'go back to your own country' when that is the kind of prejudice that our ancestors faced," one ethnic minority Londoner commented. "As a black man I feel shame, how anyone of colour can tell another 'go back to ur country'... Coz in a hot min it will b said to her," wrote another.
"She's going on like she's English herself. Go back to your country and we will go back to ours," commented one user from a Muslim background. "Wasn't a white women this time, turns out people from other races have a nasty racist streak in them," commented another user.
"It's shocking and worrying to see this happening. This is a reminder that prejudice can come from any direction," says Sunder Katwala, Director of British Future, an independent think-tank that works on identity issues. "The fact the woman is black does not make it more or less acceptable. In a diverse society, we need to fight against this type of behaviour no matter where it's coming from."
It's unclear if the incident has been reported to police. BBC Trending has attempted to contact the person who shared the video for comment.
Blog by Mike Wendling
Reporting by Anne-Marie Tomchak
Next story: The photographer snapping pictures of the good life - in one small part of Syria
Wedding frolics, music concerts and basketball - in a war-torn country. READ MORE
You can follow BBC Trending on Twitter @BBCtrending, and find us on Facebook. All our stories are at bbc.com/trending.