Caleb Bratayley: The teenager whose life - and memorial service - were broadcast online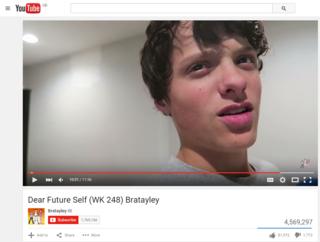 "This is so sad, I was crying all day yesterday and today" ... "I'm in tears because of the news." ... "God bless this wonderful family." These were just a few of the comments posted online during a memorial service for 13-year-old Caleb Bratayley, which was streamed live on Facebook and watched by tens of thousands, many of them also teenagers.
Unlike some earlier acts of mass mourning online, this outpouring wasn't prompted by an unfolding personal story of terminal illness. Instead it happened because Caleb, along with his two sisters, was a star of the hugely popular Bratayley family YouTube channel and he died, unexpectedly, of natural causes. Caleb's parents told ABC News that a heart condition runs in the family, but the exact cause of death has yet to be determined.
Caleb's death and memorial opened a window into the world of YouTube families - self-made reality stars, many of whom have huge followings, even if they are mostly unknown by the general public. Some of those commenting online were critical of the decision to live-stream such a private matter as a teenager's memorial service, raising questions about the genre and how families navigate the ethical considerations involved in broadcasting their children's lives to the world.
---
Follow BBC Trending on Facebook
Join the conversation on this and other stories here.
---
The Bratayleys - not their real surname - post videos of themselves going on family trips, playing sports and doing science experiments. It's ordinary but authentic stuff, which may explain why the channel has more than 1.7 million subscribers and their videos have a total of more than 1 billion views.
The Bratayleys are associated with Maker Studios, a Disney-owned company that helped build their online following. But they're not unique in terms of popularity or commercial success.
---
Listen to BBC Trending Radio
Hear more on this story - and more from the Trending team - on BBC World Service radio. Stream the programme or download our podcast.
---
Austin Null shows off his family on the Nive Nulls YouTube channel, which has more than 300,000 subscribers. For Null and his wife, who have two young children, YouTube's advertising revenue-sharing model means vlogging (short for "video blogging") has become a full-time paid job.
"People sometimes ask, why would people want to watch your lives and you going to Wal-Mart every day, like who cares? Well I'm like I don't really want to watch the Kardashians argue with each other all day, but some people do," he told BBC Trending.
In addition to the financial rewards, Null has a religious component to his blogging - his family are Christians and they frequently talk about their faith. But what kind of people are drawn to watch family video blogs?
"There is maybe a certain emotional component missing in their lives that they wanted from their family but that they're maybe finding it through our family in a way. We're not perfect by any means, but we try to stay positive," he says.
Peter Bowes, the BBC's correspondent in Los Angeles, has followed the rise of online celebrity and reality, and says that vloggers have varying motivations.
"Some people clearly have an agenda, they want to sell certain lifestyles. Some are Christians and they simply want to promote the values they live by. Others - and this seems to be the dominant reason - seem to be in it for the money," Bowes says, adding: "People want to be famous, people want to be known."
But of course there are ethical questions involved in thrusting children into the spotlight. The criticism of the Bratayleys for live streaming Caleb's memorial service mostly came from Twitter users (the family later held a private funeral). But Null argued that the stream allowed fans to grieve and was dealt with tastefully. And personally, he says he's constantly assessing the effects of putting his own family online.
"Definitely boundaries are a big issue on YouTube, especially for families. So for us, we want our kids to feel safe. My daughter, she's 3, and she's getting to the point where she will tell us she doesn't want to be in the vlog so we'll just stop vlogging. If they ever got to the point where they are like 'we can't stand this anymore', then we just wouldn't do it."
Bowes says that the whole notion of celebrity has been transformed by social media. "A lot of people in Hollywood say that there's very few real celebrities around these days, because it is so easy to appear on a screen.
"In a world where, particularly here in America, voters are turning away from professional politicians, some viewers seem to be turning away from 'professional' celebrities. They see this new breed of people as more interesting," he says.
After Caleb Bratayley's death, his family posted his last video. It looks as ordinary as the rest of the channel: a sleepy teenager in a T-shirt eats breakfast, dodges his sisters and mopes around the house. About ten minutes in, Caleb takes a camera, points it at himself and reads a question: "If you could ask your future self one question, what would it be." He thinks for a minute and then says: "Is Taco Bell still around?" He ad libs and goofs around for another minute or so.
If you didn't know it was his last YouTube hit you might think it was just another bit of footage from a boy who lived, became famous, and was memorialised online.
Reporting by Estelle Doyle
Blog by Mike Wendling
Next story: Where is Azam?: Searching for a Syrian boy in Europe
Among the thousands of Syrians now on the move across Europe is a 5-year-old boy named Azam - who was badly injured in what is believed to have been a car accident, and may still need medical attention. People across the continent are using a Twitter hashtag to try and find him.READ MORE
You can follow BBC Trending on Twitter @BBCtrending, and find us on Facebook. All our stories are at bbc.com/trending.