Around the world people ask 'who's to blame?' for the Hajj stampede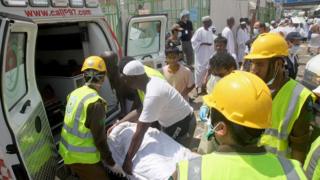 The Hajj stampede, in which at least 717 people died during pilgrimage to Mecca, has dominated social media conversation across the Middle East and beyond. There's one question being hotly discussed: who's to blame?
Debate has centred on the Saudi authorities, the pilgrims themselves, and even sectarian conspiracy theories. There was also strong reaction in Africa to suggestions by Saudi Prince Khaled al-Faisal that African pilgrims were to blame.
Various hashtags about the crush were being used in different languages - #HajjStampede was mentioned more than 10,000 times in 24 hours, and #Mina was used more than 30,000 times. Here's how social media reacted in the most-affected regions and countries, as reported by our colleagues at BBC Monitoring.
Inside Saudi Arabia and across the Arab world
Two contrasting hashtags trended in Arabic on Twitter: "Failed Saudi administration" and "Successful Saudi administration".
The "failed" hashtag first began to trend after the stampede, with critics of the Saudi government saying that the pilgrimage was poorly organised. User @jbhamjzye said the Saudi authorities "turned Eid into a pilgrims' funeral".
But critics were soon overwhelmed by supporters of the Saudi response. "May God cut your hand, you who wrote this hashtag," tweeted one user under an image of an axe in the colours of the Saudi flag.
Soon after, the "successful" tag started trending, with users commending the work of security services and organizers. Images of elderly and disabled people apparently being helped in the aftermath of the stampede were widely circulated, along with a video of a pilgrim thanking the Saudi government, and conspiracy theories claiming Iranian authorities were responsible. Despite the basis for these claims being unclear, the hashtag "Iran kills pilgrims" was used more than 65,000 times.
Iran
Iran has reported the greatest number of deaths among foreign nationals - 131 - and the Iranian leadership has been harshly critical of the Saudi authorities.
The country's Supreme Leader Ayatollah Ali Khamenei used his Twitter accounts in English and Arabic to call on the Saudi government to "accept its heavy accountability in this bitter incident & take necessary measures based on justice & rights." One of the posts on his Arabic account showed a graphic image of dead bodies, and he repeatedly used the hashtag "Failed administration".
Another hashtag that translates as "Incompetency of Saudi family" was stoked by some pro-government social media users, many of whom blamed the deaths to on the closure of one of the routes for the pilgrims. But Twitter is officially banned inside Iran, and the tag was used fewer than 100 times. Overall, Iranian social media reaction was muted compared to other countries.
Nigeria
Saudi Prince Khaled al-Faisal's blaming of "some pilgrims with African nationalities" for the incident sparked an angry reaction in Nigeria. User @kay_sesen said: "Anti-black, anti-poor, xenophobic, totally outrageous yet predictable response from the Saudi Monarchy."
Others urged Africans to "take pride" in their heritage, while others dismissed the Saudi officials as "liars".
"Oh Africa, the official black sheep of the world," tweeted @SekorG "Convenient for everyone to put every global blame us. #HajjStampede".
Pakistan
Several Hajj-related hashtags were among the top trends in Pakistan, where most users also slammed the Saudi authorities. A few took a contrary view, however, putting the tragedy down to "density" and "human error".
"If only the monarchy cared for ordinary people," commented Raza Rumi @Razarumi, while user Muhammad Anjum Kiani tweeted: "If it was not for the rapid response of KSA [Kingdom of Saudi Arabia] authorities the death toll from #MinaStampede tragedy could have been in the thousands."
Indonesia
In Indonesia, the world's most populous Muslim country, the majority of messages expressed sympathy for those killed and their families, with only a few criticising the Saudi authorities. At least three deaths of Indonesians were reported.
"These are people. Please handle this with some intelligence, heart and humane management," wrote @Husen_Jafar.
Reporting by BBC Monitoring
Blog by Mike Wendling
Next story: 'China's Donald Trump' kicks off communism debate
A post by a Chinese property mogul who's fond of verbal sparring caused a heated debate about the country's political system under the hashtag "We are successors of communism".READ MORE
You can follow BBC Trending on Twitter @BBCtrending, and find us on Facebook. All our stories are at bbc.com/trending.