So what if you moved somewhere before it was cool?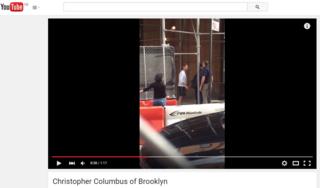 Maybe you know the feeling. You started living somewhere before it was trendy, only to see lots of other people pile in later.
The debate around the effect of "gentrification" of inner cities is a divisive one in many parts of the world. For one man in a previously gritty but now fashionable part of Brooklyn, New York, it all became too much recently when a couple pushing a pram apparently bumped into him as he was running down the street. The ensuing confrontation was captured on video and posted online. After repeatedly threatening the pram-pushing dad - "I'll kill you with one punch!" - the jogger brings up racial politics. "You're new in the neighbourhood. I've been in this neighbourhood. The only reason white people like you are living here are because I settled this ... neighbourhood," the man is heard shouting. "White privilege!"
The bizarre part of the rant? The jogger is actually white.
Although the original video has been deleted, it was quickly reposted by others and has since been watched hundreds of thousands of times. Online, many questioned the racial politics the man made reference to, as well as the idea that someone could "settle" a place that has been inhabited for thousands of years and by Europeans for at least three and a half centuries.
"I am oddly confused. How does a white guy shout "white privilege!" at another white person?" commented one YouTube user. "Seems like everyone wants to throw those terms around."
"Threatening and pushing a person in front of a police officer in Brooklyn," said another. "If he wasn't white, he would've been shot to death."
But the jogger also picked up some support. One YouTube user said people from Brooklyn are tired of an "influx of 'tourist' New Yorkers [who] move into this city to slum for a few years before heading off to the suburbs. I totally get where he's coming from.".
In a later interview with the website Gothamist, the jogger said he was born and grew up in Manhattan and moved across the East River to Fort Greene, a neighbourhood adjacent to downtown Brooklyn, in 1997. The jogger, who wasn't identified by name, claimed the woman pushing the pram swore at him, but admitted that he felt slightly guilty about the accusation he levelled at the couple.
"When I used to go down to the liquor store down there, the black people would all run, because they thought I was a cop! So when I tell you I'm having a fight about white privilege with this man, I'm slightly guilty because I'm moving in to gentrify a neighbourhood, except I'm the first one here when nobody wants to live here," he said. He went on to say he felt he had "ownership" over the city.
Like many parts of New York and other American cities, Fort Greene and Brooklyn experienced industrial decline and "white flight" to suburbs starting in the 1950s and 60s, but have recently since experienced a new surge of white and more affluent residents. Meanwhile, Fort Greene's black population has declined significantly since 2000.
The couple, meanwhile, haven't been identified, so it's impossible to tell how long they have lived in Brooklyn - or even if they live there at all.
Blog by Mike Wendling
Next story: 'China's Donald Trump' kicks off communism debate
A post by a Chinese property mogul who's fond of verbal sparring caused a heated debate about the country's political system under the hashtag "We are successors of communism".READ MORE
You can follow BBC Trending on Twitter @BBCtrending, and find us on Facebook. All our stories are at bbc.com/trending.