One man's rant against live streaming and Periscope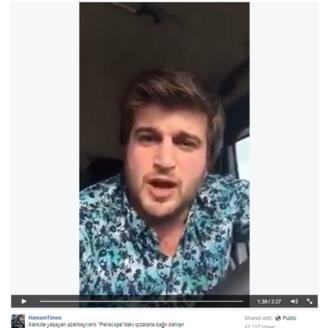 "Periscope has ruined the lives of your young daughters."
With this provocative opening line, one man began a rant against the popular live-streaming app, accusing new technology of corrupting the morals of young women.
Elnur Muradov goes on to say that parents aren't taking notice of what their children - "especially daughters" - are doing on their phones. "They're sitting around, putting their make-up on in front of everyone… Exposing themselves on Periscope. That's why there are divorces all over the place!"
Nearly 50,000 people have watched the video, a significant number for Azerbaijan. Gunel Asgerzade, one of the few Azerbaijanis to voice outrage in the video's comments section, says that far from exposing herself or putting on makeup, she uses Periscope to show everyday life with her twin toddlers.
"The problem is not with women - it is with men," she says. "They see me with children, and yet they send comments like 'let's meet up' or 'take your clothes off.'"
BBC Trending has previously investigated sexist comments on Periscope. A quick look at those using the app from Azerbaijan revealed that most of them seem to be men, and despite Muradov's complaints none of the women broadcasting themselves were putting on makeup or taking their clothes off.
But despite all this, many Azerbaijanis online expressed support for Muradov's views - most comments supported his views. "Women think they are being modern - but they are actually being prostitutes," wrote one user.
Blog by Leyla Najafli
Next story: How one black man reacted while being searched by police
A video of a man claiming discrimination after being stopped and searched by police in Bogota has captured the attention of millions of online, prompting a discussion about racial divisions in Colombia.READ MORE
You can follow BBC Trending on Twitter @BBCtrending, and find us on Facebook. All our stories are at bbc.com/trending.