What a British jihadist's anti-Arab rant tells us about life in the so-called Islamic State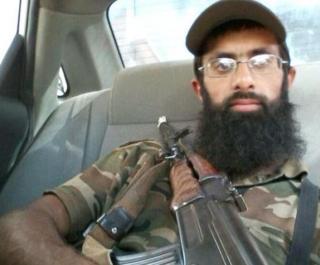 A British fighter for so-called Islamic State has penned what seems to be a racially charged rant against Arabs - providing a surprising glimpse into tensions inside IS-held areas of Syria.
Omar Hussain is one of at least 700 Britons thought to have travelled to Syria and Iraq to join militant groups. He's become an active voice in social media propaganda for the group, has called for terror attacks, has threatened Britain in interviews with the BBC, and defended beheadings and other Islamic State atrocities.
But he recently posted a rant critical of Arabs and his Syrian hosts on a Tumblr page under his pseudonym, Abu Saeed al Britani.
In the post, he gives a laundry list of complaints, broad stereotypes and misinformation. Syrians are "childish" and are known for "stealing shoes", nicking food and using other people's phone chargers, he says, and also accuses them of being messy and lazy.
The blog is also peppered with odd or just plain incorrect statements. "Syrians love to stare at foreigners, maybe because no tourist has ever visited Syria," Hussain writes (Syria had a significant tourism industry before the war).
Hussain insists that he doesn't mean to "ridicule" Syrian culture, but concludes by advising would-be jihadis to join "European battalions" and calling the habits of Syrians and Arabs "bothersome."
Charlie Winter, senior researcher at the anti-extremism Quilliam Foundation think tank, says the post exposes the divide between the foreign fighters who have travelled to Syria and the local population.
"Foreign fighters do enjoy a different level of lifestyle. They are given better lodging, more money, better food, and this is something you consistently hear from defectors," Winter says. "It's very different from the Islamic State's official line, which is that everyone receives the same health care and benefits and everyone is equal."
"Clearly he looks down on Syrian locals as inferior supporters of Islamic State," he says. "In my opinion, he's shooting himself in the foot and shooting foreign fighters in the foot."
Winter says that foreign IS fighters are sometimes seen complaining on Twitter about "madani" - civilian locals - and people who have escaped from IS-held territory in Syria and Iraq have routinely described the inequality between foreigners and the newcomers. But rarely have foreign fighters been so vocal, at such length, about their disdain for the locals.
"It points to something that is incredibly important, something that the central Islamic State leadership don't want to have any coverage of," he says.
Online the reaction to the post was mostly incredulous, if not outright mocking.
"There is just something so uncomfortably British about complaining about bad manners and etiquette while being a terrorist," said one Reddit commenter. "Let's get a gofundme for this poor soul," one Twitter user sarcastically commented, "where's your humanity?!!"
Blog by Mike Wendling
Next story: Five 'happy refugees' pictures that went viral
What do you think of when you think of migrants and refugees? Probably not smiling children or moments of joy.READ MORE
You can follow BBC Trending on Twitter @BBCtrending, and find us on Facebook. All our stories are at bbc.com/trending.